Born as a slave in February of 1840, William Carney's father managed to escape and make his way north via the Underground Railroad, ultimately earning the funds to purchase his wife and son's freedom.
The family moved to Massachusetts, where Carney began to get involved in academics even though laws and restrictions still prevented African Americans from learning how to read or write.
Although pursuing a career in the ministry, once the Civil War erupted, Carney determined the best way he could honor God was by enlisting in the military to help rid the world of oppression.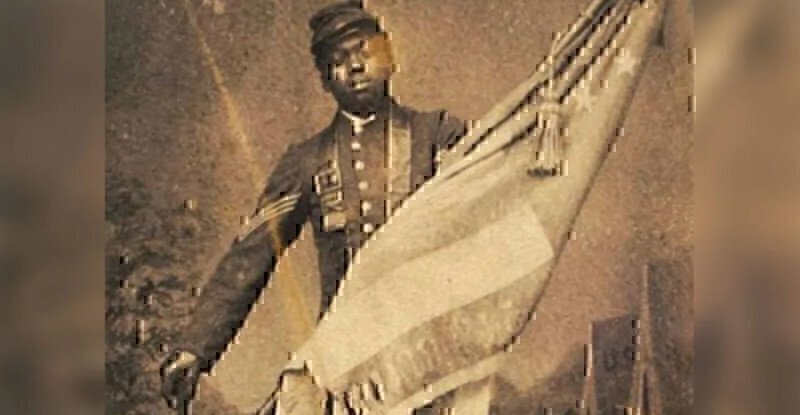 William Carney holding his flag. (Source: Wikipedia Commons)
In March 1863, Carney entered the Union Army and was assigned to Company C, 54th Massachusetts Colored Infantry Regiment along with 40 other African American men. This was the first official black unit fighting on behalf of the North.

Carney and the other men were sent to James Island in South Carolina where they would see their first days in combat.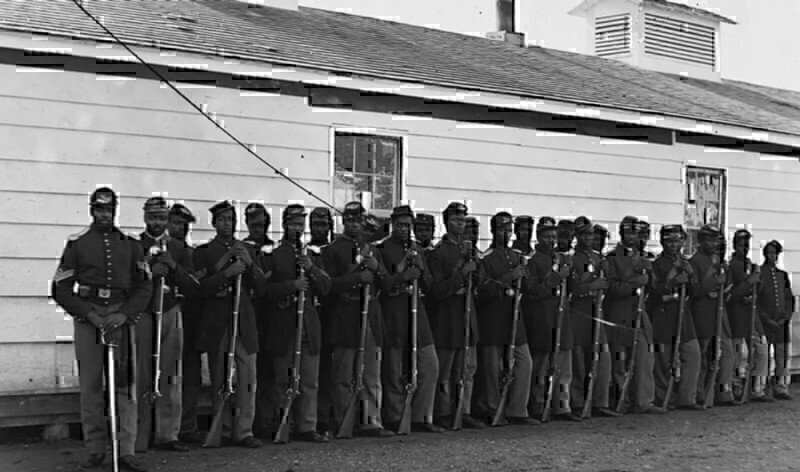 54th Massachusetts Infantry Regiment.
On July 18, 1863, the soldiers of the 54th Massachusetts Colored Infantry Regiment were led on a charge on Fort Wagner. During the chaos, Carney witnessed the unit's color guard as he was mortally wounded, nearly dropping their flag to the ground.
Carney, who was also severally injured, dashed toward the falling patriotic symbol and caught it before it touched the dirty ground.
With the flag in his hand, Carney crawled up to the walls of Fort Wagner while motivating his fellow troops to follow his lead. He managed to plant his flag at the base of the fort and angled it upright for display.
Although Carney suffered deadly blood loss, it's reported he never allowed that flag to touch the ground. This action inspired his fellow troops, and the infantrymen managed to secure the fort.
For his bravery in action, Carney was awarded the Medal of Honor on May 23, 1900, making him the first African American to ever earn the distinguished accolade.
This article originally appeared on We Are The Mighty
READ NEXT
11 Things to Keep You Occupied & Productive During Quarantine
7 Movies to Watch While Quarantined
The Real Life Story Behind Saving Private Ryan