#Sponsored
AliroVets,  an AI powered technology platform, is building the first employment referral network for the military connected community.
HR professionals and hiring managers alike know that employee referrals make the best hires. A recent Jobvite study backs up these anecdotal claims and clearly shows that referrals cost less to source, are faster to hire, make better job candidates and have higher retention rates. The Society of Human Resources Management (SHRM) stated in an article that "Employee Referrals Remain Top Source for Hires."
What is astonishing is that only 7% of applications come by way of referrals yet account for around 40% of overall hires! Which means less than 10% of candidate sourcing efforts are carrying nearly 50% of the overall conversion rate. So, why aren't more companies increasing their capacity to attract more employee referrals? Especially, more referrals from the military community?
In an effort to encourage Military Friendly® Companies and military connected jobseekers to increase their referral activity, AliroVets has designed a unique platform that enable companies to leverage their Veterans and military spouse hires to refer others like them for job opportunities.
Surprisingly, what makes AliroVets extra special is the option to include external referrals from the military connected community. This means that you do not have to be an employee of a company to refer Veterans or military spouses to them.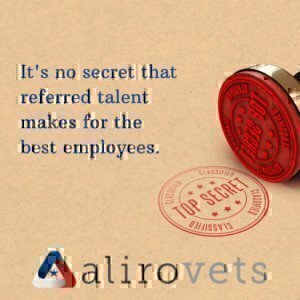 So, What exactly is AliroVets?
AliroVets is a SaaS (Software as a Service) employment referral-tech platform that is accessible from any PC or mobile connected devices and can be deployed internally or externally for any size business. This platform also comes equipped with AliroMatch, a patent protected AI feature that enhances matching capabilities to ensure best job fit.
So, How does AliroVets help?
For the Military Community: The best resource in finding a job is other people. When you sign up on AliroVets you can either apply for jobs or instantly refer other Veterans or military spouses you think might be a good fit for that particular job. If you are exploring career options there is now an exclusive network to help you unlock and tap into the hidden jobs market for yourself and others by leveraging the power of referrals like never before.
For Military Friendly® Employers: AliroVets enables companies to effectively leverage their military connected employees to source and refer other job candidates for employment opportunities. It is like having hundreds of extra recruiters, sourcers and brand ambassadors helping to fill open jobs while offering unique employee incentives and rewards.
For Referrers / Military Advocates: How often do you come across a family member, Veteran or military spouse that is actively or passively looking for a new job? As a free member of AliroVets, even when you are not looking for a job, you can refer job links to people you know via email, text messages or your personal social network instantly. And, if anyone you refer gets hired, you may receive a "referral bonus." It's a win, win!
To learn more, request a demo, search jobs or refer others please visit alirovets.com.
READ NEXT