Lured by the chance to see America, Navy veteran Sam Rojas launched a new career after the military. He became a truck driver to see as much of the country as he could. He quickly made an impact.
Before you read Rojas story, here's an important note. A CDL Driver/Operator is one of the Top 25 Jobs For Veterans in 2022. The median salary for a truck driver is about $47,000.
Your military service can be a powerful advantage in this industry because companies look for people who are dependable and have a background in operating heavy machinery. Therefore, veterans are a great fit. Check out 6 Reasons Why Veterans Are A Great Match for Trucking Jobs.
Navy Vet Becomes A Highway Hero
Sam Rojas decided to become a trucker to see the country, even though he had a college degree in mechanical engineering. It didn't take long for Rojas to make an impression. In August 2020, he was named a Highway Angel after pulling a woman from a burning minivan. 
Not every professional driver encounters that kind of drama, but most love the freedom of the open road and the chance to work independently.
What's It Like To Be A Truck Driver After The Military
We asked Rojas, who now trains other drivers, what it's like to drive for a living.
Why did you choose a career in transportation?
So I joined trucking to travel. Funny, I know, but I traveled the world seeing different countries but never saw all 48 states. So I saw it as an opportunity that still allowed me to provide for my family.
What's a typical day as an over the road driver look like?
My typical day is to wake up, get dressed, get some coffee and make sure everything is functioning on my truck. Then I hit the road for three hours and look for a rest area. I'll walk around the truck, stretch. Push until lunch so typically another three hours. Take a 30-minute break, then push out to another rest area and take time to find the perfect truck stop to stay the night. Then repeat in the morning.
How many days are truck drivers on the road?
I stay out for approximately six to eight weeks at a time. Depending on what coast you're on, the minimum is two to three weeks. For every week you're out you get one day of home time.
How's the truck driver salary? And the benefits?
Pay is great. You get paid by the mile whether you are empty or loaded. You also receive $100 for every load you tarp. Full medical, dental and life insurance, not only for you but your dependents.
What was your most memorable moment as a truck driver or trainer?
Saving a woman from a burning minivan. Oh, but the greatest was the first time I pulled up in that truck and my little boy came running up to me.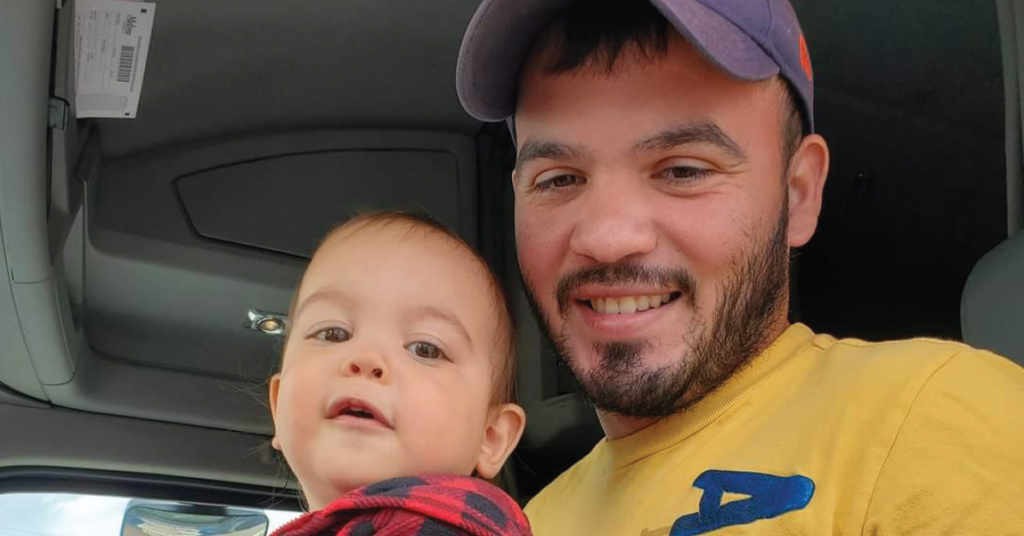 Would you recommend this career field to transitioning service members or veterans?
Yes, I would recommend this job. You are dependent on your over the road safety, which has been drilled into your head.
What do you love most about this career field?
I love seeing new different places, from delivering to backwoods that you never knew existed
to major cities.
What's the biggest challenge as a truck driver?
The biggest challenge I would have to say is patience—during traffic and weather.
About Sam Rojas, Navy Veteran
Professional Driver
Melton Truck Lines
LOCATION: Tulsa, Okla.
AGE: 28
MILITARY SERVICE: Petty Officer Second Class (E-5), Navy (8 years)
Rating: Steelworker
Post-secondary education:
Bachelor's degree,
mechanical engineering
License: CDL-A
Certification: OSHA safety