[fusion_builder_container hundred_percent="yes" overflow="visible"][fusion_builder_row][fusion_builder_column type="1_1″ background_position="left top" background_color="" border_size="" border_color="" border_style="solid" spacing="yes" background_image="" background_repeat="no-repeat" padding="" margin_top="0px" margin_bottom="0px" class="" id="" animation_type="" animation_speed="0.3″ animation_direction="left" hide_on_mobile="no" center_content="no" min_height="none"][fusion_text]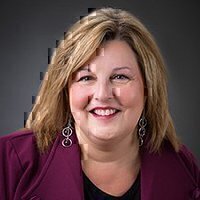 Ms. Sharon Robino-West
Bellevue University
---
Area of Study: Business Management/Organizational Change
Military Branch: United States Marine Corps
Years Served: 4
Highest Pay Grade: E4
MOS: Communication Electronics
Age: 54
Tell us about yourself:
I am a veteran and the mother of a USMC veteran who deployed to Iraq in the infantry. I am passionate about working with veterans and their family members. I am married with a total of two sons and two step sons and a one year old grandson. I like to write and pursue photography in my down time and I really enjoy traveling.
What prompted you to return to school?
At the time I went back to school I was a single parent. I wanted the best opportunities in life for my boys and myself. I knew that education and networking were the ways to get the mission accomplished. The investment that you put into yourself through an education is one of the best things you can ever do for your future.
Why did you choose Bellevue University?
I chose Bellevue University because of the Adult Learning options. I liked the flexibility of scheduling, the class offerings and the size of the school itself. I was also drawn to the fact that it was a military friendly school, and that they valued and recognized my military service. Bellevue University rewarded my experience through credit hours toward my degree.
What military education benefits, such as the GI Bill, did you use?
By the time I went back to school my military benefits had expired. What I have availed myself of is the Student Loan Forgiveness Program that President Obama signed into law in 2007. By working in nonprofit and government career fields after my graduation, I will be eligible to have the balance of my student loans forgiven after 10 years of payment. This is a huge incentive to give back to your community while rewarding yourself for your hard work.
What has your experience been like as a student?
As a student, I couldn't have been more pleased with the flexibility and resources that were offered in my studies. I was able to complete my undergrad degree at an accelerated pace and go on to complete my Master of Arts in Leadership online. I also enjoyed the networking opportunities with the other students who were working and attending school, and with the instructors. As an alumnus I am able to continue to access the website and I use the Military Veterans Service Center on the Bellevue University campus as much as I can. I stay connected.
Did you face any challenges adjusting to student life?
Definitely working full-time while going to school was an adjustment. It was also important to be self-motivated, whereas in the military you get your marching orders and you complete the mission through steps that are outlined in your training and your standard operating procedures. As a student, you have to figure out what works best for you and discipline yourself to working that program.
Do you feel like your time in the military made you a better student?
My military experience has made me a better student, a better individual who is prepared for civic engagement and a better person overall. It taught me how to build and rely on a team and how to treat people. I went into the Marine Corps at 17 and I still believe it is the backbone for my work ethic, the way I lead people and the way I hold myself accountable. It has everything to do with the tenacious individual that I am today.
What advice could you offer to other veterans choosing to pursue an education?
This is no different than accomplishing the mission as you learned from boot camp forward. The biggest thing to remember is that you are setting yourself up for success in the future. It won't always be easy and you will have to improvise, adapt and overcome as life happens while you work on that degree. Don't let that slow you down. You deserve to pursue this with all that you have because you and your future, and that of your family are worth the effort that it will take.
Parting comment?
Be sure to have fun along the journey!
This profile is of an employee of the United States Veterans Association. It is not an endorsement by this organization.
[/fusion_text]
[/fusion_builder_column][/fusion_builder_row][/fusion_builder_container]