[fusion_builder_container hundred_percent="yes" overflow="visible"][fusion_builder_row][fusion_builder_column type="1_1″ background_position="left top" background_color="" border_size="" border_color="" border_style="solid" spacing="yes" background_image="" background_repeat="no-repeat" padding="" margin_top="0px" margin_bottom="0px" class="" id="" animation_type="" animation_speed="0.3″ animation_direction="left" hide_on_mobile="no" center_content="no" min_height="none"][fusion_text]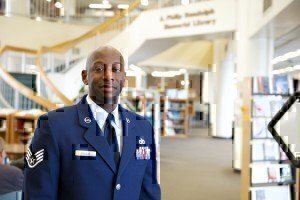 Andre Morgan
Borough of Manhattan Community College
---
Area of Study: Human Resources
Military Branch: Air Force/ Reserves
Years Served: 15 years
MOS: Active duty –recruiter
Age: 38
Tell us about yourself:
I am from Bridgeton in Southern New Jersey. I enjoy photography, going to the gym and traveling. I like staying active (physically and mentally) and I enjoy learning new things.
What prompted you to return to school?
I wanted to continue my education and network with people who could help further my career. Going back to school is a good way to meet new people and learn new skills.
Why did you choose BMCC?
I chose BMCC because it of its location. In New York City, everything happens, and I like the diversity of the student population and the faculty. It's a military friendly school.
What military education benefits, such as the GI Bill, did you use?
Tuition Assistance and Post- 911.
What has your experience been like as a student?
I have been able to meet new people who have been very helpful. The classroom atmosphere at BMCC has been wonderful so far. The transition was a lot easier because of the BMCC staff.
Did you face any challenges adjusting to student life?
There weren't too any big surprises. As a recruiter I was familiar with college life at some level.
Do you feel like your time in the military made you a better student?
Yes. It teaches us about punctuality, integrity and this helped us in transitioning to college life. The importance of meeting deadlines and paying attention has been instilled in us while we served in the military and it carries over nicely into our educational life.
What advice could you offer to other veterans choosing to pursue an education?
Don't wait to the last minute to register for classes. There are a lot of students who are registering. You need to make sure to select your classes as soon as you can. Take advantage of this opportunity.
[/fusion_text][fusion_text]
[/fusion_text][/fusion_builder_column][/fusion_builder_row][/fusion_builder_container]