Hollywood tends to get military life wrong — and portrayals of helicopter pilots in the Vietnam War are no exception. Despite what you've seen in movies, daily operations didn't always involve pulling troops from a hot landing zone or going in with guns and rockets blazing — and it wasn't always done in a Huey, either.
In fact, while it's best-known for playing a key role in Operation Enduring Freedom, the CH-47 Chinook saw a lot of action in the Vietnam War. This helicopter has served with the Army for over half a century and is still going strong — new variants, the CH-47F and MH-47G, are rolling off the production lines as we speak!
CH-47 Chinooks and UH-1 Hueys load troops during Operation Crazy Horse. Over 30,000 troops were moved into difficult terrain in that 1966 operation.
(US Army photo)
For a lot of helicopter pilots, especially those who flew the CH-47A, CH-47B, and CH-47C models of the Chinook, the Vietnam War was mostly about moving cargo from one part of the operating theater to another, often hauling upwards of 7,000 pounds of cargo inside its cavernous cabin. The Chinook has a history of doing precisely that, whether in Operation Enduring Freedom, Operation Iraqi Freedom, Desert Storm, or any number of peacetime operations.
In Vietnam, CH-47s were also used to recover planes and helicopters. These would often be taken back to repair depots, like USNS Corpus Christi Bay (T ARVH 1). Chinooks were also often used for moving artillery pieces — and their crews and ammo — to new locations. It was faster and safer than going by ground, even though the helicopters sometimes found themselves overloaded by troops. In 1966, the Chinook made a name for itself during Operation Crazy Horse, during which over 30,000 troops were transported by chopper into very difficult terrain.
A CH-47F in Afghanistan. The latest versions of the Chinook carry three times as much cargo as the ones that flew in Vietnam.
(US Army photo by Staff Sgt. Nathan Hoskins)
At least 200 CH-47s were lost during Vietnam, either to enemy action or operational losses. Those harsh experiences, however, led to improvements. Today's CH-47s haul 24,000 pounds, more than three times the 7,000 pounds carried by early Chinooks in Vietnam.
See what a day in the life of a Vietnam War Chinook pilot was like in the video below!
This article originally appeared on We Are The Mighty
More From We Are The Mighty
5 Reasons Why Troops Stick Together After the Military
4 Reasons Why Showering On Deployment is Disgusting
7 of the Greatest Songs Every Veteran Knows
6 Things You'd Take Back Before Leaving the Military
6 Dumb Things Veterans Lie About on the Internet
Follow We Are The Mighty on Twitter
READ NEXT: 6 OF THE MOST GAME CHANGING MILITARY PLANES EVER

Summary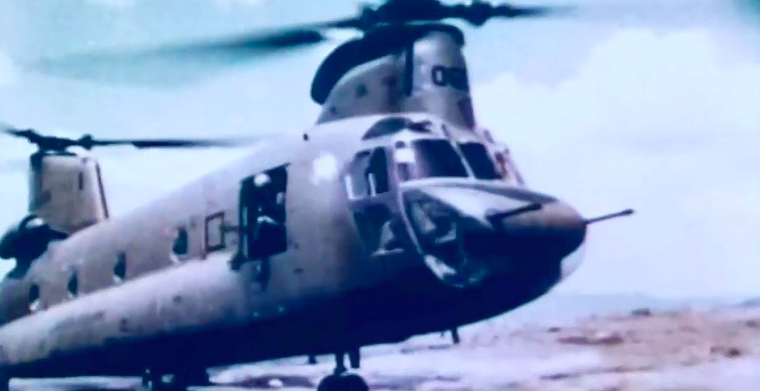 Article Name
A Day in the Life of a Chopper Pilot in Vietnam
Description
Being a chopper pilot in Vietnam probably isn't like what you would think it was like from watching movies. Here's what it was really like
Author