Elmhurst College, a 2016 Military Friendly® School located just 16 miles west of downtown Chicago, is a great choice for transitioning military veterans. Why? Elmhurst College earned its rankings because it's a place where military veterans can succeed for a number of reasons, including small class sizes, a convenient location for students who live in Chicago as well as the suburbs, and numerous opportunities for student veterans to be active across campus, said Jeremy Giacomino, military program coordinator for Elmhurst College.
"The transition from military to civilian life can certainly be difficult for some service members, but Elmhurst offers an environment where student veterans are not going to get lost in the crowd," he said. "Faculty know their students by name, and continually work together with our staff to meet the needs of our students."
Why is being Military Friendly®  so important for transitioning veterans?
"Post-secondary institutions earning the 2016 Military Friendly® School award have exceptionally strong programs for transitioning service members and spouses," said Daniel Nichols, chief product officer of Victory Media and a Navy Reserve veteran. "Our Military Friendly® Schools are truly aligning their military programs and services with employers to help students translate military experience, skills and training into successful careers after graduation."

Don't take our word for it, check out what a recent four-year military veteran had to say about why she loves attending Elmhurst College.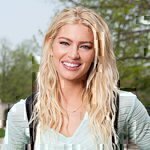 Tell us about yourself:
I'm currently going to school full time as well as working full time at a radio station in Chicago.
What prompted you to return to school?
Now that I'm 26, I'm truly able to look around and know what I want in life, and having my degree is definitely one of my goals.
Why did you choose Elmhurst College?
The school is clean, beautiful, the professors are truly passionate about teaching, and the classrooms are small.
What military education benefits did you use?
I am currently using the Post-9/11 GI Bill.
What has your experience been like as a student?
Elmhurst College has been so helpful from the very beginning, and coming to this school has truly made me passionate about learning again.
What challenges did you have adjusting to campus culture after military life?
I just felt old compared to everyone else, but it actually became fun because I can bring special experiences to the classroom that most do not.
Do you believe your military experience has made you a better student?
Absolutely! The military has made me much more disciplined and has shown me that I should always be pushing to better myself.
What advice do you have for veterans returning to school?
Be open to the experience of college as a whole. Go out and meet new people, choose classes you find interesting, and have fun!
Elmhurst is a Yellow Ribbon School and accepts all federal VA educational benefits for veterans, service members, military spouses and dependents.  For more information on veterans' eligibility for educational benefits,  please request more information by clicking the button below.