[fusion_builder_container hundred_percent="yes" overflow="visible"][fusion_builder_row][fusion_builder_column type="1_1″ background_position="left top" background_color="" border_size="" border_color="" border_style="solid" spacing="yes" background_image="" background_repeat="no-repeat" padding="" margin_top="0px" margin_bottom="0px" class="" id="" animation_type="" animation_speed="0.3″ animation_direction="left" hide_on_mobile="no" center_content="no" min_height="none"][fusion_text]
David Lattibeaudiere–Transmission System Operator

David Lattibeaudiere, Transmission System operator, began his career at FirstEnergy in March 2015 shortly after his military duty concluded. In his current position, David enjoys helping to keep the lights on in New Jersey.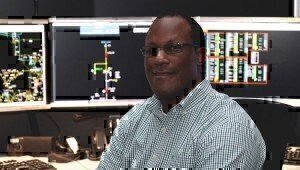 "I help ensure the reliable delivery of electricity to customers by monitoring and operating FirstEnergy's 34kV and above transmission assets to within designed ratings," he said. "I also work with crews to safely switch equipment in and out of service for emergency and planned work. My job is very rewarding."
David served six years in the United States Navy as a nuclear trained electrician's mate, and he served on the USS George Washington stationed in Yokosuka, Japan, for four years. His responsibilities included supervising the operation of the ship's electrical power system (generators, switchboards, etc.) and performing preventative maintenance on generators, controllers, lights and switchboards in the propulsion plants.
"My initial research and the interview process made it clear that FirstEnergy values veterans' experiences and core values. I truly appreciate how accommodating FirstEnergy is to employees who currently serve, through its great military leave of absence policy," he said.
Learn more about David and his military background in the March 2017 issue of G.I. Jobs Magazine:
https://bit.ly/GIJobs-March2017
.
[/fusion_text]
[/fusion_builder_column][/fusion_builder_row][/fusion_builder_container]