[fusion_builder_container hundred_percent="no" equal_height_columns="no" menu_anchor="" hide_on_mobile="small-visibility,medium-visibility,large-visibility" class="" id="" background_color="" background_image="" background_position="center center" background_repeat="no-repeat" fade="no" background_parallax="none" enable_mobile="no" parallax_speed="0.3″ video_mp4="" video_webm="" video_ogv="" video_url="" video_aspect_ratio="16:9″ video_loop="yes" video_mute="yes" video_preview_image="" border_size="" border_color="" border_style="solid" margin_top="" margin_bottom="" padding_top="" padding_right="" padding_bottom="" padding_left=""][fusion_builder_row][fusion_builder_column type="1_1″ layout="1_1″ spacing="" center_content="no" hover_type="none" link="" min_height="" hide_on_mobile="small-visibility,medium-visibility,large-visibility" class="" id="" background_color="" background_image="" background_position="left top" background_repeat="no-repeat" border_size="0″ border_color="" border_style="solid" border_position="all" padding="" dimension_margin="" animation_type="" animation_direction="left" animation_speed="0.3″ animation_offset="" last="no"][fusion_text]
The transition from military to civilian life can be challenging for veterans.
Are you having trouble finding a job with family-sustaining wages? Or do you feel stuck in your current position and want to make a career move?
In either case, I have great news for you: There are a lot of opportunities waiting for you in information technology (IT). In any given quarter there are more than 500,000 IT job postings nationwide (see "Mapping the IT Jobs Landscape" graphic.) And if you are tired of relocating, I have more good news: Those half a million jobs are spread across all 50 states, which means it's likely you won't have to go too far to find IT work.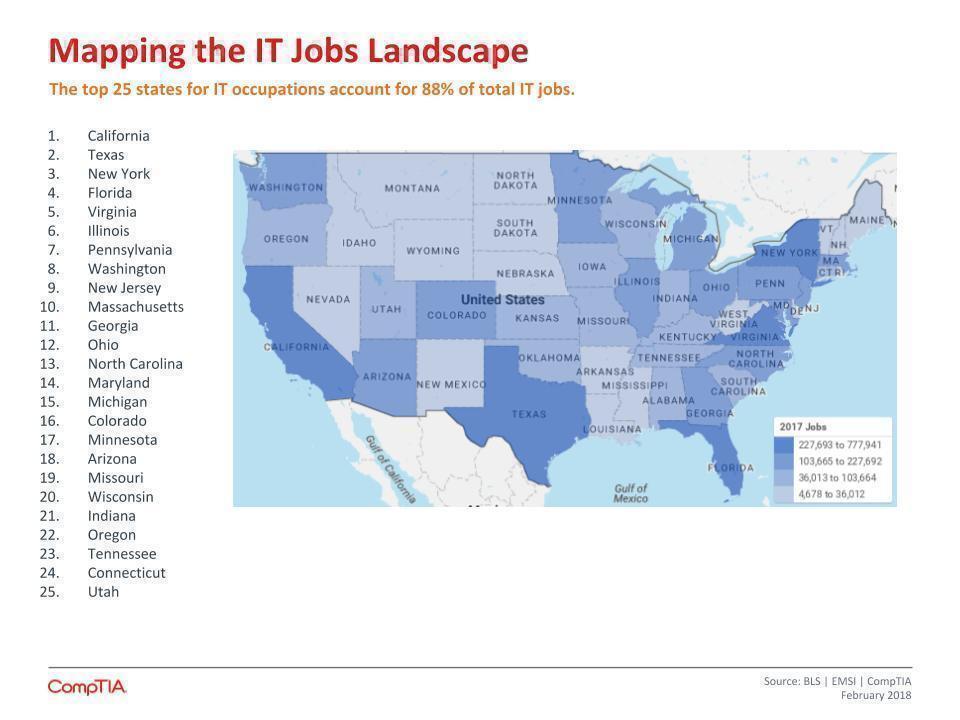 According to research by my organization, CompTIA, a worldwide non-profit IT trade association, nearly three-quarters of businesses (across a range of sizes and sectors) report relying heavily on technology to meet business goals and objectives. Yet, these same employers cite a lack of qualified people to fill hundreds of thousands of open positions working with technology. Moreover, it's a problem about half (46 percent) of business leaders polled expect to become worse with time (see "Skills Gap" bar chart.).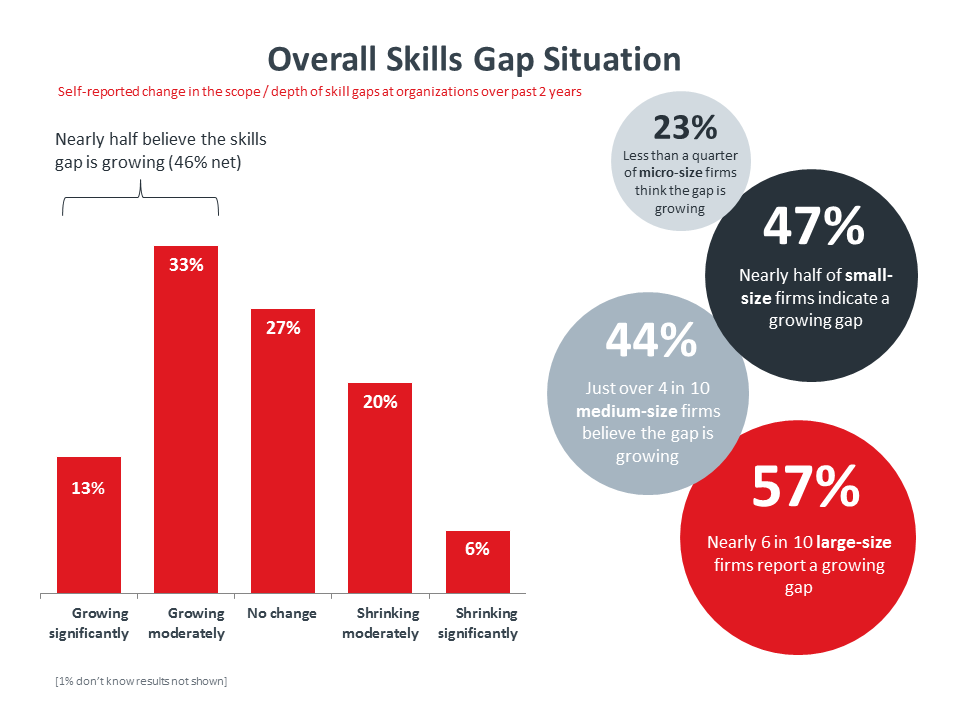 To help address this concern, Creating IT Futures, a tech workforce charity founded by CompTIA, launched IT-Ready, a tech training program for adults in transition. We believe a fantastic way to help fill the tech skills gap is providing groups currently under-represented in technology fields – such as women, people of color and veterans – with more opportunities to learn IT career skills.
Veterans are an important part of our mission, because, since 9/11, veterans as a group face higher unemployment rates than their predecessors. Today, just over 10 percent of IT-Ready participants are veterans, and we're eager to expand this group. Why? Because, in our 7-year experience with the program, we've discovered people with military experience make great technologists.

Who is a technologist? We believe technologists are defined by these five traits, which they share with many veterans of military service:
A Technologist Thinks Strategy First — Before they start working, technologists step back and plan – just as veterans learned to do during their service.

A Technologist Has a Passion for Solving Problems and a General Curiosity – Technologists don't see problems as obstacles to avoid; they consider problems opportunities for solutions.

A Technologist Sees Technology in a Constructive Context — Technologists appreciate that, in the broadest sense, technology is a tool whose value is determined by its application for the benefit and assistance of people. Many veterans learned the same lesson from their time in service.

A Technologist Believes Tech Is about Humans, not Hardware — Technologists see gadgetry as solutions that serve people, just as veterans learned the tools of their trade to serve their missions.

A Technologist Values Respect, Cooperation and Collaboration – Technologists, like veterans, know what it means to be part of a team in service of a mission. The days are long gone when most IT staff work alone in a dark room; it's all about collaboration and connecting to the end user.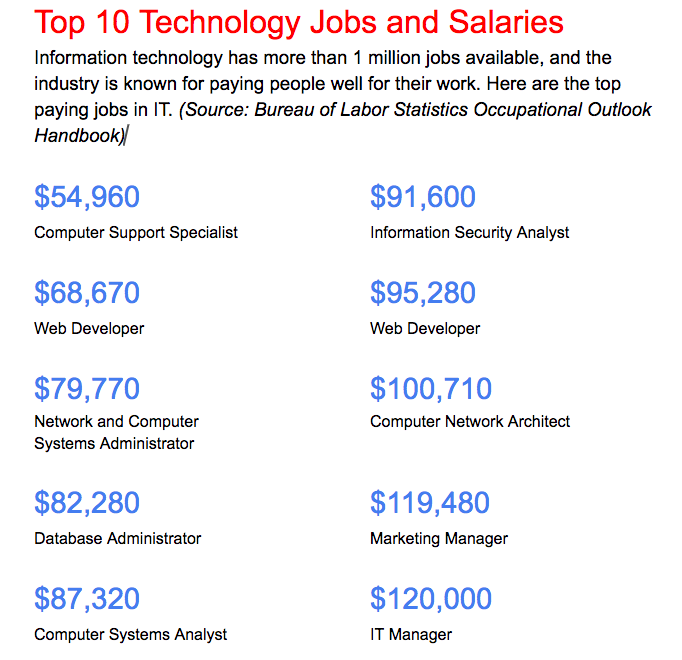 Two great aspects of IT-Ready: It's free and takes only eight weeks to complete.
How can you join an IT-Ready program? First, you must apply. And today, you must either live near one of our training centers in Minneapolis/St. Paul, Portland, OR, or Charlotte, NC. Or be able to travel to one of those cities. If that doesn't work for you now, stay tuned as we add more locations and classes in coming months. Also, there are other free or low-cost nonprofit training programs across the country that are similar to IT-Ready, such as those from Per Scholas, The Stride Center or NPower.
If you can come to one of the training centers and are interested in applying, here's what you can expect from the program:
The IT-Ready Technical Support curriculum teaches the ins and outs of operating system installation and upgrading; installing and imaging virtual machines; data storage; peripheral devices; safety and maintenance; assembly and disassembling of hardware; computer networking; Internet security; and troubleshooting.  After you're done, you are set up to take CompTIA's A+ certification exam.
Our instructors also teach business skills – sometimes called "soft skills" — such as customer service, interpersonal communication, resume building and interviewing tips. So, you'll be ready to jump in when we find you a job or pair you with a paid on-the-job training experience.
For those who want to earn more professional credentials, IT-Ready's Alumni program provides free online training and testing vouchers for other CompTIA certifications (including Network+ and Security+).
Think you have what it takes to make the move to an IT career? Learn more by visiting wwww.itready.com. Meantime, follow this blog as I share a series of six posts highlighting veterans who have graduated from IT-Ready and continued to exciting tech careers.
Charles Eaton leads three philanthropic endeavors for CompTIA, the world's largest IT trade association: Executive Vice President of Social Innovation; CEO of Creating IT Futures; and, NextUp, the organization's initiative to inspire young people to choose technology careers. The second edition of his book, How to Launch Your Teen's Career in Technology: A Parent's Guide to the T in STEM Education, in English and Spanish versions will be available June 2018.
READ NEXT: HIGH PAYING TECHNOLOGY JOBS FOR VETERANS

[/fusion_text][/fusion_builder_column][/fusion_builder_row][/fusion_builder_container]
Summary
Article Name
Free Program is Helping Veterans Become 'IT-Ready'
Description
Learn how veterans can get training to begin their careers in technology.
Author
Publisher Name
Publisher Logo