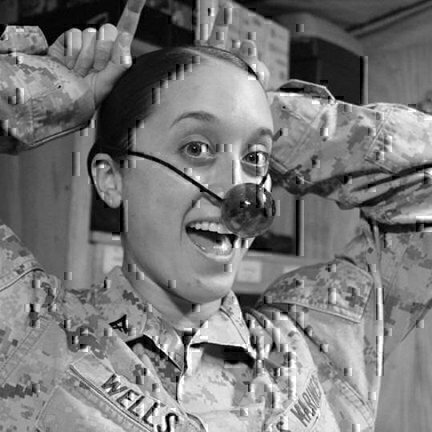 Michelle N. Castro
Age: 25
Military Service: Marine Corps (2010-2014)
Highest Rank: Corporal (E-4)
MOS: Field Radio Operator (0621)
Degree: Bachelor of Science in kinesiology
Graduation: Expected, Spring 2017
University of Houston
When Michelle Castro left the Marine Corps in 2014, she and her husband wanted to live in Houston. The former field radio operator wanted to help others, so she began studying human resources at the University of Houston, which educates more than 40,750 students in 300-plus undergraduate and graduate academic programs on campus and online.
"When I first enrolled in classes, I thought I wanted to pursue a career in human resources, but after a few semesters I knew that was not what I wanted to do," she says. "I found myself really interested in kinesiology and ended up switching my degree over to that."
She did an internship this summer that cemented the decision.
"This summer I participated in an internship with Adaptive Athletics at the University of Houston, and we hosted an all-women's wheelchair rugby camp. After the camp was over, I definitely knew that I found what I was looking for," she says.
We asked Castro about her transition, her adjustment to campus life and her best advice for service members considering using their GI Bill.
How did you research your military education benefits?
Castro: Upon exiting the service, it was mandatory for us to attend a SEPS/TAPS class. One of the options they offer is an Accessing Higher Education class. They design the course to break down the different benefits that we could be eligible for. I was interested in using the Post-9/11 GI Bill after finding out about it.
Why did you choose this school?
Castro: I chose the University of Houston because I wanted to go to a well-recognized university that would offer me all sorts of different benefits. It was in a city, it was a tier one research university, it had hundreds of student organizations, and most of all it had a Veteran Services office that was specifically designed to ensure veteran and dependent success on campus.
What are your goals once you're armed with your new degree?
Castro: I enjoy working with athletes who come from different backgrounds and different experiences, but I know that I need to go further in my education so that I can do more with the tools that I am already receiving. I'm hoping that I can go back to school and receive my graduate degree in social work. I just really enjoy working with people and helping those around me. I'm not sure what direction I will decide with social work, but I am positive that it will take me far.
Are you using the GI Bill? If so, which one?
Castro: After using the Post-9/11 GI Bill for two years, I switched over to Vocational Rehabilitation (Chapter 31). I found out about this benefit through the VSOC (Veteran Success On Campus) counselor at the University
of Houston.
Does it cover all of your expenses?
Castro: I'm so grateful that Vocational Rehabilitation covers all of the tuition and costs that go into receiving my education. With "Voc Rehab" my tuition, mandatory student fees and books are covered each semester.
Has your military experience made you a better student?
Castro: I definitely believe that my military experience has taught me to be smarter about the decisions that I make daily. Many of the things the military taught me really come in handy when receiving my education. After serving and then deciding to go back to school, I believe I was able to take school seriously so that I can succeed.
Did you have any difficulty adjusting to campus culture?
Castro: It took me about two years to really adjust to school and campus life. Those first two years I found myself making excuses to not get involved, or making excuses to only stay in the Veteran Services office. In the spring of 2016, I finally realized I needed to branch out and do new things, and because of that decision I was able to land an awesome internship opportunity with Adaptive Athletics.
What advice would you give to other students to help them adjust to campus culture?
Castro: Adjusting to campus culture can be difficult, and for some it can be scary because it really forces us to get out of a certain comfort zone that we have built around us. I highly encourage veterans to get involved in student organizations on campus. Not only are they part of something they have interest in, they are already bridging the gap between the community of those who didn't serve and those who served in the military.
If you could redo your transition to school, what would you do differently?
Castro: I don't think there is much I would change about my transition into school. I've been very lucky with my transition, and I really owe it to the Veteran Services office. The staff has walked me through every process in school. The one thing I would change if I could would be my interest in getting involved on campus sooner.
Are there any blunders you would urge service members transitioning to a post-military education to avoid?
Castro: I would recommend they take a lot of interest in being proactive with their transition. Working in the Veteran Services office at the University of Houston, I see a lot of veterans not get accepted because of doing things too late. When veterans call the office for information, I always highly encourage them to get their application and needed documents turned in as soon as possible.
Would you recommend your school to other military and veteran students?
Castro: I would definitely recommend the University of Houston to veterans who are getting out and looking to go back to school. The University of Houston does a lot for its veteran community on campus. We have over 2,000 veterans who are eligible for multiple resources offered on campus. We have a fantastic Veteran Services director who really cares about the veterans. We have career fairs, resource fairs, luncheons and many more networking opportunities that she puts together. We also have a Student Veterans of America chapter that encourages us to get together and make an impact in the community.
Which military achievement are you most proud of?
Castro: I'd like to believe that I did a lot while I was in the military, but I think that my biggest accomplishment in the military was completing the corporal's course. I also took classes while in, and I would volunteer around the community (I got to volunteer for the Marine Corps Marathon in Afghanistan).
What did you do to prepare for leaving the military?
Castro: There is a lot that goes into preparing to get out of the military. I think one thing that really helped me to prepare properly was SEPS/TAPS that the military offers for those exiting the service. Establishing a plan will really help you succeed when you get out. Know where you want to move to, know what your budget will be, what school you want to go to, what benefit you're going to use. There is a lot, but having a checklist can make it an easier and smoother process.[/fusion_text][/fullwidth]