Veterans entering the civilian workforce are often anxious to immediately make their mark with a new employer, and as such, erroneously believe they can't simultaneously take the time to use their Post-9/11 GI Bill benefits to continue their education.
The GI Bill covers certificates and non-degree education, including executive education—academic programs offered at graduate-level business schools which enable attendees to upgrade skills without taking extended time away from work to earn a degree. The use of GI Bill benefits for executive education may not be widely understood, but it certainly creates an exceptional professional development opportunity for veterans. Some exec ed programs focus on general management and leadership, while others may delve into business skills like finance or marketing, or focus on specific industry sectors, like energy or agriculture.
Business school executive education programs feature rigorous classroom academic instruction, reading materials/case studies, lodging and most meals at a single cost. The curriculum may be delivered in person, online or via a combination of both, and programs may last a few weeks to several months.
Damon Ploger, a retired Marine master sergeant and entrepreneur, recently used his Post-9/11 GI Bill benefits to attend the Dartmouth Tuck Business School two-week Advanced Management Program (AMP), and was amazed at the camaraderie that developed among his cohort of 35 business executives.
"One thing that really appealed to me was the tight-knit cohort at Tuck. Everyone quickly gained trust, respect and appreciation for one another and the different experiences and knowledge we each contributed. It was an intimate academic setting, allowing for a more relaxed approach and individualized attention from senior business professors. I left feeling enriched with not only knowledge and business insight, but also a renewed sense of confidence about where I want my business to go and how to get there." – Damon Ploger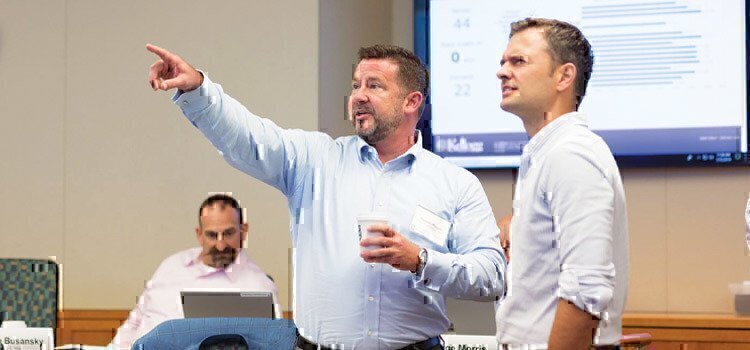 Former Marine and Tuck executive education student Damon Ploger (center) during the 2019 Tuck Advanced Management Program.
Tuck veteran students have used both Montgomery GI Bill and Post-9/11 GI Bill benefits for different executive program offerings, including the AMP and Tuck Next Step—an intense, two-week certificate program designed for transitioning service members and elite athletes.
"We are proud to be the only, to our knowledge, general management program specifically designed for veterans and elite athletes in transition to their next career," Margaux Lohry, assistant director of Tuck Transition to Business Programs, said about Next Step.
Kevin Lane Keller, senior associate dean for Innovation and Growth at Tuck, enjoys working with military students. "I have consistently found that some of my hardest-working and most engaged students are those with military experience," he said.
"In our executive education programs at Tuck in particular, they come prepared and are typically adept at getting the most out of their educational experience. They are a real joy to teach and get to know, too."

Yale is another Ivy League institution maximizing the opportunity for veterans through its use of Post-9/11 GI Bill benefits, and Yale's School of Management has worked to also authorize full Yellow Ribbon benefits for executive education, meaning that programs like the Yale Global Executive Leadership Program (GELP), an 11-month, multi-session program with a $60,000 price tag stretched over two fiscal years, is within reach of self-funding veterans.
Joe Laurito, finance director of executive programs at the Yale School of Management, is working with the first group of military students to use both GI Bill and Yellow Ribbon benefits for the current GELP cohort. "We believe our military veterans bring unique, valuable perspectives to our classrooms, and in return, our programs help them develop as leaders in government, business and society," he said. "We are always looking for new ways to help veterans use their Post-9/11 GI Bill and Yellow Ribbon benefits to support continuing education—which includes working out benefits for our growing portfolio of courses for individuals in topics like leadership, marketing and finance."
Retired National Guard Col. Shirley Raguindin, now a GS-15 at the Pentagon, is a recent graduate of the Yale GELP. "In my 28 years of military service, YGELP is the senior leadership curriculum that I looked for but could not find, while in uniform or in my current role as a federal civilian employee," she said. "The program provides a diverse set of perspectives to help solve complex DOD problems, and it adds relevance and insider exposure to the multiple functional disciplines that I've learned from professors and classmates."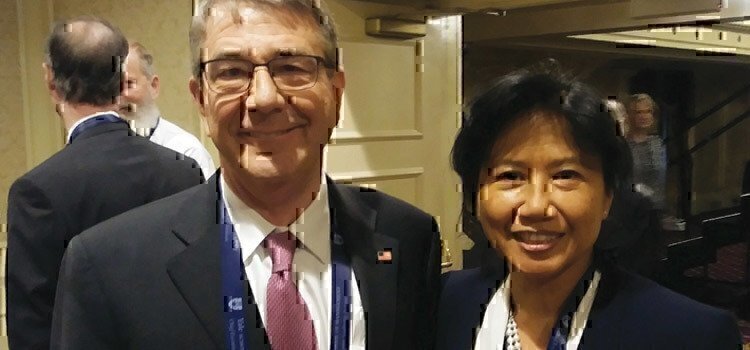 Yale Executive Ed student Shirley Raguindin with former SECDEF Ash Carter at the Yale CEO Summit
Veterans seeking to use their GI Bill benefits for executive education should do their research and check with the VA and the coordinator of the program they are interested in attending. The ability to use GI Bill benefits for executive education varies by state, school and program, and some of America's top-ranked business schools do not currently authorize GI Bill benefits for exec ed. The GI Bill Comparison Tool can help.
Hal Pittman is a retired Navy rear admiral and director of military and veteran engagement at Arizona Public Service, Arizona's largest energy company. He recently attended the Advanced Management Program at Dartmouth's Tuck Business School using GI Bill benefits.
Check out this story and much more for FREE in the digital October 2019 issue of G.I. Jobs magazine!
READ NEXT
11 of the Most Dangerous Jobs in the U.S. Military
9 Most Irritating Things Vets Hear When They Head Off to College
5 Reasons Why You'll Never Forget Your Drill Sergeant