Stability Matters. Job security is just one of the many attractions for veterans interested in insurance jobs. While it may be true, the insurance industry may not be the first business that comes to mind for many transitioning service members. It certainly wasn't for Chris Manuel when he retired as an intelligence specialist from the Marine Corps in 2015.  
"The insurance industry as a whole, very few people ever think about it or hear about it. And it's extremely stable, it's very consistent. And in that regard I would recommend it," said Manuel, who's a surety underwriter for Travelers Insurance* in Houston. 
We asked Manuel about his transition from the military and his civilian career—what he does, what he likes about it and his best advice for you.
Chris Manuel's Military Transition Q & A
Q: What was your biggest fear as you transitioned from the military?
A: I was in the Marines for 20 years. Each time I planned to get out, I found that I wasn't ready. And when I finally was, I struggled to gain traction—leaving active service for an unknown life change was difficult. My biggest fear was getting out and not having a safety net or anything solid to stand on as I changed careers.
If you're worrying about your transition, read 10 Reasons Not to Freak Out About Your Civilian Transition to calm your nerves.
Q: What did your biggest challenge turn out to be?
A: Getting my resume noticed and finding the right people to network with to secure an interview. If I could get in the door, interviews went well. It was just a matter of trying to get noticed. Military resumes are often difficult for layman to understand, but a good resume coach can help veterans translate their military experience to corporate terms. Also, review these 10 Ways To Civilianize Your Resume to make it easier for your resume to stand out.
Q: What mistakes would you urge transitioning service members to avoid?
A: Be humble and willing to learn while transitioning. Leaving the familiarity of the military creates an environment of starting over often in industries and careers that take time to fully understand in detail. 
Why Insurance Jobs Are A Good Career For Veterans
Q: Why did you look into insurance jobs?
A: I landed in New Orleans after the Marines and stayed there until I married and moved to Houston with my wife, who lived in the area. She was in insurance. I looked at several positions in many industries, mostly in operations, and eventually took a role as an operations manager at Travelers. The hiring managers were Army and Air Force veterans who understood military resumes and service member capabilities. Three years later, I became a surety underwriter—a role that allows me to use my analytical background, degree, and operational focus. 
Q: What does a surety underwriter do?
A: I analyze financial and operational performance, review specific obligations and contract details, determine the risk of the obligation and capabilities of the client, and compare with industry and market trends while being mindful of Travelers' strategic appetite.
Q: What days and hours do you typically work in an insurance job?
A: My team's normal hours are between 8 a.m. and 5 p.m. Monday through Friday, though that may vary with certain roles. Much like in the military, we have obligations and expected outcomes that may require greater
time commitments on occasion.
Q: Would you recommend this career field and industry to service members or veterans?
A: A role as a surety underwriter is great for someone with an analytical or operational background who is open to learning accounting and surety. Outside of my position, Travelers offers a number of career path options that relate really well to several occupational specialties in the military. The company also has a great mentor program and resource group for military families, and they actively seek veterans and spouses looking for a new career.
*Company is a paid client.
Finding An Insurance Job After The Military
For even more great information, check out the video interview with Manuel in the electronic version by downloading the G.I. Jobs app for free at GIJobs.com/app. 
On the G.I. Jobs Career Portal, you can search our veteran job board for jobs in insurance. Create a free profile to find companies hiring veterans.
Another way to connect with companies hiring veterans is to sign up for the next Virtual Career Fair. At the event, you can talk one-on-one with recruiters. It's a great way to network and share your resume so you can have a better chance at landing that next interview.
About Chris Manuel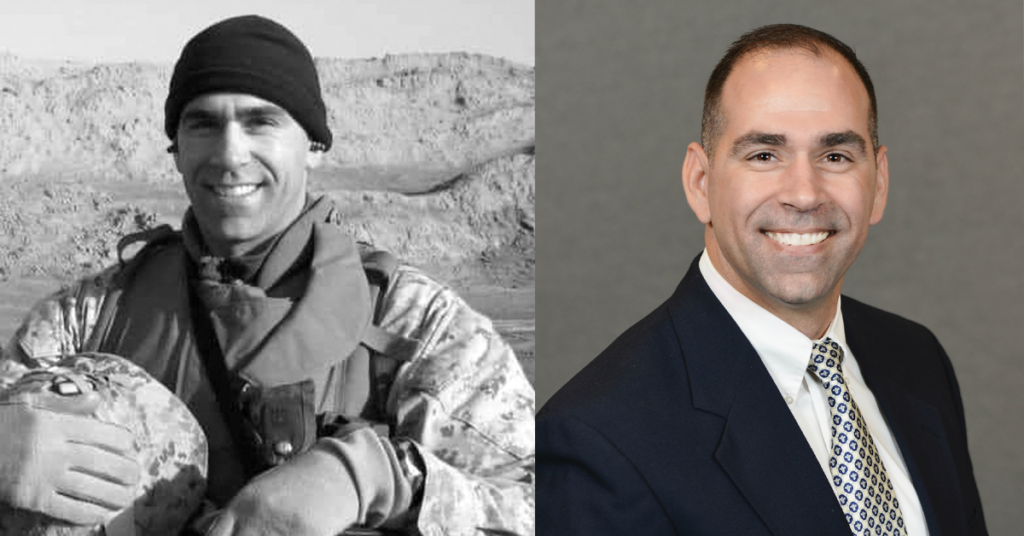 Master Sergeant
Account Executive
Travelers
LOCATION: Houston
AGE: 47
MILITARY SERVICE:
Master Sergeant (E-8),
Marine Corps (1995–2015)
MOS: Intelligence Specialist (0231)
Post-secondary education:
Bachelor's degree, accounting,
University of Maryland Global Campus, 2010
Master's degree, accounting and finance,
University of Maryland Global Campus, 2013