[fusion_builder_container hundred_percent="yes" overflow="visible"][fusion_builder_row][fusion_builder_column type="1_1″ background_position="left top" background_color="" border_size="" border_color="" border_style="solid" spacing="yes" background_image="" background_repeat="no-repeat" padding="" margin_top="0px" margin_bottom="0px" class="" id="" animation_type="" animation_speed="0.3″ animation_direction="left" hide_on_mobile="no" center_content="no" min_height="none"][fusion_text]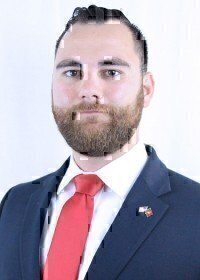 Fred Blaz
Jacksonville University
---
Area of Study: Bachelor of Business Administration in Finance
Military Branch: United States Marine Corps
Years Served: 6.5
Highest Pay Grade: E5
MOS: 0651/8156
Age: 26
Tell us about yourself:
As a student and Veteran, I decided early on to get involved in the Veteran community, both on campus and off. I'm currently the Vice-President of Jacksonville University's chapter of Student Veterans of America, an organizer for Northeast Florida Vets4Vets, delegate to Northeast Florida Vets Council for my VFW post, and a member of the Board of Directors for Jacksonville Semper Fidelis Society. These connections continue to provide me with some very unique opportunities, including traveling to Anaheim to represent JU at the Student Veterans of America National Conference.
What prompted you to return to school?
I've always wanted to earn a degree. While on active duty, I took online classes here and there, but never really had the time to take a full course load. Once I made the difficult decision to return to civilian life, there was no question in my mind that I was going back to school and starting on the path toward a new career.
Why did you choose Jacksonville University?
I chose Jacksonville University for several reasons. The first was its reputation as a very Veteran-friendly institution with great resources for Vets, including a dedicated space where Veterans can talk, study and collaborate together. I was applying to schools while overseas, which was kind of difficult, but JU's Veteran Student Coordinator helped make that process so much better. The entire staff at the University was constantly in touch with me and promptly responded to any questions I had.
Secondly, JU's smaller class sizes as a private institution was extremely appealing. It's been a great help in getting acclimated back into the traditional classroom environment. Lastly and most importantly, they are a Yellow Ribbon school all the way!
What military education benefits, such as the GI Bill, did you use?
I used tuition assistance while on active duty, and I'm currently using the Post 9/11 GI Bill. Fortunately, JU participates fully in Yellow Ribbon so I've been able to fund the full cost of my tuition without accruing student loans.
What has your experience been like as a student?
My student experience has been nothing but positive. I've been able to build some really solid relationships with professors and other students that I would never have at a bigger university.
Did you face any challenges adjusting to student life?
My biggest challenge adjusting was trying to find my place, not as a Vet, but as an older student. Fortunately, it wasn't as difficult as I thought. By simply having conversations with younger students and working together on projects, I found that we have a lot more in common than I thought. The Defenders Den, our very own Veterans' and military students' hub, has been very helpful, allowing me to connect with others in the same situation.
Do you feel like your time in the military made you a better student?
There's no doubt my military experience has made me a better student. I am definitely more disciplined than prior to the Marine Corps. My military experience also allows me to bring diversity into the classroom, creating some dynamic discussions and conversations. In short, it has helped me become more fully engaged and involved in my classes.
What advice could you offer to other veterans choosing to pursue an education?
The best advice I can offer to Veterans returning to college life is to get involved from day one. It's easy to be the quiet one in the back of the room, but being engaged will help you connect to other people who are likely going through, or have gone through, some of the same issues you've faced or will face in seeking a degree. It's also important to make the most of your time in school. Just like the military, you only get these opportunities once. You'll be surprised how much you bring to the table if you take a risk and get involved. Whether you realize it now or not, you're a wealth of knowledge and experience, as a Veteran, that can influence the lives of everyone around you.
[/fusion_text]
[/fusion_builder_column][/fusion_builder_row][/fusion_builder_container]