[fusion_text]
---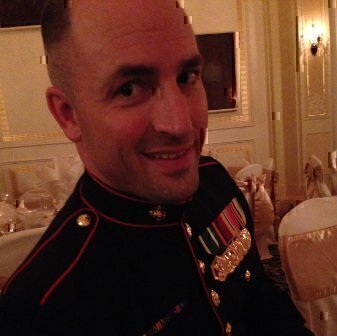 Program Type/Area of Study: Interdisciplinary Studies, B.S and A.A, and Management and Leadership
Tell us about yourself:
I am the proud parent of 4 awesome kids. My fiancé and I reside in the North Bay Area of California. I am originally from Lodi, CA, which is in the Central Valley. I joined the Marine Corps right after high school in 1992 and spent the first 4 years of my career as a Reservist and college student. In 1998, I decided to go active duty and put my college career on hold for another 13 years. I spent the majority of my active duty time on recruiting duty throughout California. I decided to jump into the private sector in 2008 and went back to the Reserves. I started working in the Pharmaceutical and Durable Medical Equipment industry as a Territory Sales Manager/ Patient Care Coordinator. I finished my military career in 2011 and started focusing on my private sector career and going back to school full-time.
What prompted you to return to school?
I felt the need to finish what I started in the beginning of my military career. I also needed my Bachelor degree to move into any leadership positions within the industry I was in. Technology had also advanced since the last time I attended college, so the option to take online courses was now available. The struggle I had in my early years was getting to the campus and finding the time to squeeze in courses while working 30 hours a week and fulfilling my obligations as a Marine Reservist. I figured attending class in the evenings after my children went to bed would work out perfectly in my schedule and give me the environment to focus on my assignments.
Why did you choose Liberty?
I started at a local junior college to get the rest of my GE and lower division courses completed, but I ran into challenges with a lack of online courses to choose from. I needed 2 courses to complete my A.A, but neither had an option to complete them online. I spoke with a degree counselor and he recommended taking the two courses online with Liberty University and then transferring into the university I wanted within the California system. I contacted a Liberty enrollment counselor about what I needed to take those 2 courses. She recommended that I transfer all of my transcripts from the various colleges I had attended, as well as the SMART transcripts from the military training/courses I had completed in the Marine Corps. I was amazed that I was considered a "Senior" status after the evaluation. From that point I started full-time and never looked back.
What military education benefits, such as the GI Bill, did you use?
I am currently using my Post 911 GI Bill benefits in conjunction with the Heroes Fund.
What has your experience been like as a student?
It has been a little bit challenging to adjust as a full time student, especially after being out of the education field. I graduated from a bachelor's degree in biochemistry in 1999 from the University of Massachusetts Boston Campus, and have been basically working full time since then. Nevertheless, I have been able to maneuver working full time as a federal law enforcement officer, serve as a full time ministry leader at my local church, and be a head of household. I truly believe that when you place God first than anything and everything in life, the rest will fall in place. There is no need to worry about anything when God is guiding you.
Did you have any troubles adjusting to college?
Adjusting to campus culture wasn't much of a challenge for me after military life because I have an outgoing personality which fits well with campus life. Also, where the military assigns you to work with certain people, college gives you the opportunity to choose with whom you surround yourself.
What advice do you have for veterans returning to school?
To all my fellow veterans, I am in attention saluting you all! Thank you for your service and sacrifice for this great nation! Life sometimes might seem to be not fair at all. We might encounter obstacles in our pursuit to happiness. As a live testimony, I highly encourage you to seek God and to let Him guide you all through the pathway of success. Just like the seasons of the year, our life is full of seasons. It is up to us to maintain the helm of our ship facing to the true north regardless of how bad the forecast seems to be, and let God help you navigate through it. If you listen to Him and follow his will, you will encounter all the great things God has for you in store! With God everything is possible in life, without Him nothing. Blessings!
Did your military experience make you a better student?
I know the extra time I spent in the Marine Corps before going back to college helped focus me and gave me a systematic approach to getting things completed in a punctual manner. I look back at what I accomplished at Liberty in the past few years while working full-time and raising 4 children and I am amazed how fast it goes. My first term at Liberty, I challenged myself with 18 units and managed to earn a 4.0 and make the Dean's list. There is no way I could have accomplished that goal without the focus and attention-to-detail I learned in the Marines.
[/fusion_text][fusion_button link="/liberty-university-success-profile-david-l-keefover/" color="default" size="" stretch="" type="" shape="" target="_self" title="" gradient_colors="|" gradient_hover_colors="|" accent_color="" accent_hover_color="" bevel_color="" border_width="" icon="" icon_position="left" icon_divider="no" modal="" animation_type="0″ animation_direction="left" animation_speed="1″ animation_offset="" alignment="" class="" id=""]Next[/fusion_button][fusion_text]
[/fusion_text]