[fullwidth background_color="" background_image="" background_parallax="none" enable_mobile="no" parallax_speed="0.3″ background_repeat="no-repeat" background_position="left top" video_url="" video_aspect_ratio="16:9″ video_webm="" video_mp4="" video_ogv="" video_preview_image="" overlay_color="" overlay_opacity="0.5″ video_mute="yes" video_loop="yes" fade="no" border_size="0px" border_color="" border_style="" padding_top="20″ padding_bottom="20″ padding_left="" padding_right="" hundred_percent="no" equal_height_columns="no" hide_on_mobile="no" menu_anchor="" class="" id=""][one_third last="no" spacing="yes" center_content="no" hide_on_mobile="no" background_color="" background_image="" background_repeat="no-repeat" background_position="left top" hover_type="none" link="" border_position="all" border_size="0px" border_color="" border_style="" padding="" margin_top="" margin_bottom="" animation_type="" animation_direction="" animation_speed="0.1″ animation_offset="" class="" id=""][imageframe lightbox="no" lightbox_image="" style_type="none" hover_type="none" bordercolor="" bordersize="0px" borderradius="0″ stylecolor="" align="none" link="" linktarget="_self" animation_type="0″ animation_direction="down" animation_speed="0.1″ animation_offset="" hide_on_mobile="no" class="" id=""]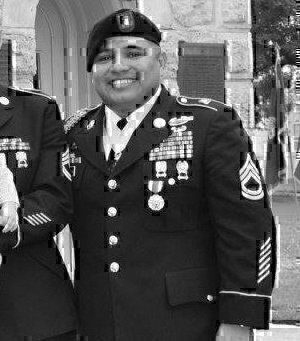 [/imageframe][/one_third][one_third last="no" spacing="yes" center_content="no" hide_on_mobile="no" background_color="" background_image="" background_repeat="no-repeat" background_position="left top" hover_type="none" link="" border_position="all" border_size="0px" border_color="" border_style="" padding="" margin_top="" margin_bottom="" animation_type="" animation_direction="" animation_speed="0.1″ animation_offset="" class="" id=""][fusion_text]Arturo De La Garza Jr.
Age: 41
Civilian Job: Regional Driver, Averitt Express
Military Service:
Sergeant First Class (E-7), Army (1992-2012)
MOS: Senior Infantryman (11B40), OIF Veteran
[/fusion_text][/one_third][one_third last="yes" spacing="yes" center_content="no" hide_on_mobile="no" background_color="" background_image="" background_repeat="no-repeat" background_position="left top" hover_type="none" link="" border_position="all" border_size="0px" border_color="" border_style="" padding="" margin_top="" margin_bottom="" animation_type="" animation_direction="" animation_speed="0.1″ animation_offset="" class="" id=""][/one_third][one_full last="yes" spacing="yes" center_content="no" hide_on_mobile="no" background_color="" background_image="" background_repeat="no-repeat" background_position="left top" hover_type="none" link="" border_position="all" border_size="0px" border_color="" border_style="" padding="" margin_top="" margin_bottom="" animation_type="" animation_direction="" animation_speed="0.1″ animation_offset="" class="" id=""][title size="2″ content_align="left" style_type="single solid" sep_color="" margin_top="" margin_bottom="" class="" id=""]Personal Stats[/title][/one_full][one_half last="no" spacing="yes" center_content="no" hide_on_mobile="no" background_color="" background_image="" background_repeat="no-repeat" background_position="left top" hover_type="none" link="" border_position="all" border_size="0px" border_color="" border_style="" padding="" margin_top="" margin_bottom="" animation_type="" animation_direction="" animation_speed="0.1″ animation_offset="" class="" id=""][fusion_text]
Childhood hero? My dad
Favorite athlete? Tim Duncan (San Antonio Spurs)
Hobbies? Weapons marksmanship
Favorite reality show? "Bizarre Foods" (Travel Channel)
Top thing on bucket list? Visit the Roman colosseum (gladiators!)
Favorite movie? "Platoon"
Favorite sandwich, plus fixings? Ham on wheat
Childhood dream job? Already done it (military/combat soldier)

[/fusion_text][/one_half][one_half last="yes" spacing="yes" center_content="no" hide_on_mobile="no" background_color="" background_image="" background_repeat="no-repeat" background_position="left top" hover_type="none" link="" border_position="all" border_size="0px" border_color="" border_style="" padding="" margin_top="" margin_bottom="" animation_type="" animation_direction="" animation_speed="0.1″ animation_offset="" class="" id=""][fusion_text]
Exercise you hate most? Push-ups
Celebrity crush? Kristin Kreuk
The world would be better without? Social media
Best concert ever? KISS and Motley Crue with my daughter
Dream car? I have it: Ford SVT Raptor
Childhood nickname: "TaTa"
First job? Oilfield construction (high school summer job in South Texas)
Most memorable fashion mistake? Long hair!!!

[/fusion_text][/one_half][/fullwidth][fullwidth background_color="" background_image="" background_parallax="none" enable_mobile="no" parallax_speed="0.3″ background_repeat="no-repeat" background_position="left top" video_url="" video_aspect_ratio="16:9″ video_webm="" video_mp4="" video_ogv="" video_preview_image="" overlay_color="" overlay_opacity="0.5″ video_mute="yes" video_loop="yes" fade="no" border_size="0px" border_color="" border_style="" padding_top="20″ padding_bottom="20″ padding_left="" padding_right="" hundred_percent="no" equal_height_columns="no" hide_on_mobile="no" menu_anchor="" class="" id=""][fusion_text]Dream Job #1. At 41, Arturo De La Garza Jr. has already worked his two dream jobs. When he was a kid, De La Garza wanted to be a combat soldier. Mission accomplished. He retired in 2012 after a 20-year career of training and leading soldiers, with multiple combat deployments.
Dream Job #2. De La Garza also wanted to be a truck driver, like his dad. Done. After a stint as a security contractor in Saudi Arabia, De La Garza went to work driving a big rig for Averitt Express out of Jackson, Miss. He's a regional driver, which means he's home weekly.
Transferring Those Skills. The skills De La Garza honed over 20 years of military service serve him well as a truck driver, including management, safety, security, decision-making, navigation, logistics and transportation.
No Big Deal. He admits he was a little concerned about adapting to the civilian management process. Turns out, it wasn't that big of a deal. "Working for other managers after having managed a trade that is life or death made the transition easier," De La Garza says. "Most industry issues today are preventable and correctable, if you're willing to discuss them and develop a course of action to achieve the ultimate goal from those who are 'hands on.'"
This is Hard. So what's the toughest thing about driving a tractor-trailer? "Backing UP!"
Father Knows Best.
The best advice for transitioning service members that De La Garza can offer comes from his dad. "Stay the course, and UNDERSTAND that you as the employee are the asset that makes employers and the industry successful. Be a professional, and expect professionalism. Courtesy and respect go a long way, while adding a little humor leads to a very successful employee and employer relationship." Wise man indeed.[/fusion_text][/fullwidth]