There's no shortage of career fairs for the military community to attend, which might help explain why veterans have the lowest unemployment rate in decades.
A Sept. 19 forum hosted by the Military Officers Association of America (MOAA) in Washington, D.C., is unique in several ways.
The Military and Veteran Networking Forum and Hiring Event is held in the evening at the National Air and Space Museum. It's free to both employers and job seekers, which can include active duty officers and enlisted service members, but also veterans and military spouses. MOAA's goal is to connect highly qualified candidates with employers seeking leaders.
"Networking is really what separates us from everyone else. What we're really trying to do is help them find the right job, the right position, the right employer." — Col. Brian Anderson, USAF (Ret.), MOAA's senior director for transition and member services
Employers are encouraged to send teams of three to five people, including executives and hiring managers who can talk about the company's mission, structure and culture. Veterans and spouses who are already working but want to advance their careers are welcome as well.
Last year more than 800 service members, veterans and military spouses explored career options with 86 employers at the event, which included panel discussions about job sectors and entrepreneurship.

Employers need to register two weeks before the event, and candidates one week in advance. Candidates do not need to be MOAA members to attend. For additional information or questions about the event, contact MOAA's Member Service Center at msc@moaa.org or 800-234-6622. You can also find information and register on MOAA's website.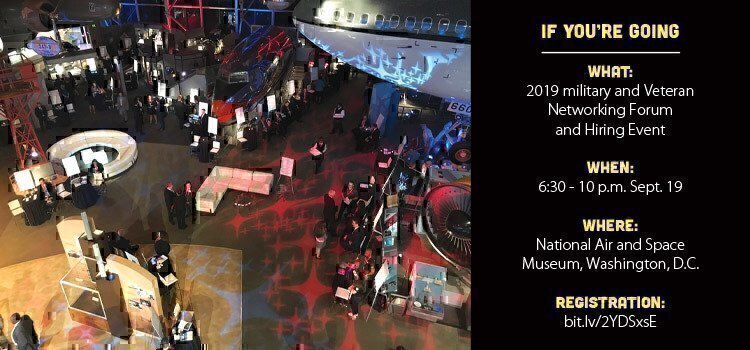 Check out this story and much more for FREE in the digital August 2019 issue of G.I. Jobs magazine!
Photo by: John Harman/MOAA
READ NEXT
11 of the Most Dangerous Jobs in the U.S. Military
$100k Security Contracting Jobs for Veterans
Top 25 Hot Jobs for Veterans 2018