As of the time of this post, only 63 days are left until it's time to vote for our next Commander in Chief, and your voice is crucial. With the help of MOAA, military families away from home can vote easily from anywhere in the world via a super simple online web portal. Cool right?
The Military Officers Association of America (MOAA) Military Family Initiative (MFI), a nonprofit 501(c)(3) subsidiary of MOA, announced via a press release on Sept. 6 the launch of a new online absentee voting web portal designed to assist and simplify the process for military family voters to obtain an absentee ballot.
So, is it easy?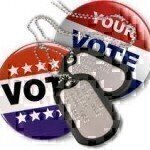 By downloading the "Absentee Voting Guide," military families away from home can quickly and easily find the address of their local board of elections and request an absentee ballot. Once they receive the absentee ballot, service members must complete the ballot and mail it back to their respective board of elections by the specific state-driven deadline to have their vote counted.
"MOAA is proud to join this important collaborative effort to help ensure the voices of all military families are heard through the electoral process," said Lt. Gen. Dana T. Atkins, USAF (Ret), president and CEO of MOAA.
WHAT IS MOAA?
Military Officers Association of America (MOAA) is the nation's largest officers association with more than 390,000 members from every branch of service, including active duty, retired, National Guard, Reserve, and former officers and their families and survivors. MOAA is a nonprofit and politically nonpartisan organization and an influential force in promoting a strong national defense. MOAA represents the interests of service members and their families in every stage of their lives and careers, and for those who are not eligible to join MOAA, Voices for America's Troops is a nonprofit MOAA affiliate that supports a strong national defense.
If you are a service member or military spouse, MOAA just made it super simple for you to get out and vote!
For more information, click the "Absentee Voting Guide,"
If you are want to learn more about each candidate and where they stand on major topics, the post below is  is a breakdown of where the candidates – Hillary Clinton, former Secretary of State (Democratic nominee); Gary Johnson, former New Mexico governor (Libertarian nominee); and Donald Trump, businessman (Republican candidate), stand.
READ NEXT: 2016 Presidential Election: Who's Working for the Military Community?