[fullwidth background_color="" background_image="" background_parallax="none" enable_mobile="no" parallax_speed="0.3″ background_repeat="no-repeat" background_position="left top" video_url="" video_aspect_ratio="16:9″ video_webm="" video_mp4="" video_ogv="" video_preview_image="" overlay_color="" overlay_opacity="0.5″ video_mute="yes" video_loop="yes" fade="no" border_size="0px" border_color="" border_style="" padding_top="20″ padding_bottom="20″ padding_left="" padding_right="" hundred_percent="no" equal_height_columns="no" hide_on_mobile="no" menu_anchor="" class="" id=""][one_third last="no" spacing="yes" center_content="no" hide_on_mobile="no" background_color="" background_image="" background_repeat="no-repeat" background_position="left top" hover_type="none" link="" border_position="all" border_size="0px" border_color="" border_style="" padding="" margin_top="" margin_bottom="" animation_type="" animation_direction="" animation_speed="0.1″ animation_offset="" class="" id=""][imageframe lightbox="no" lightbox_image="" style_type="none" hover_type="none" bordercolor="" bordersize="0px" borderradius="0″ stylecolor="" align="none" link="" linktarget="_self" animation_type="0″ animation_direction="down" animation_speed="0.1″ animation_offset="" hide_on_mobile="no" class="" id=""]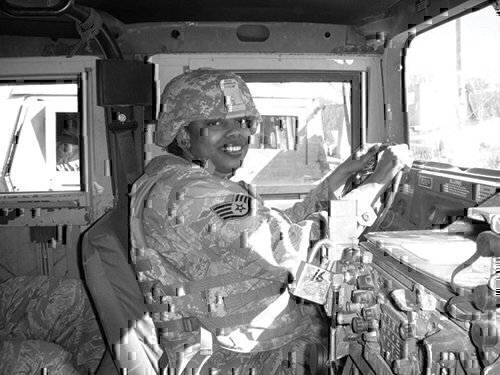 [/imageframe][/one_third][one_third last="no" spacing="yes" center_content="no" hide_on_mobile="no" background_color="" background_image="" background_repeat="no-repeat" background_position="left top" hover_type="none" link="" border_position="all" border_size="0px" border_color="" border_style="" padding="" margin_top="" margin_bottom="" animation_type="" animation_direction="" animation_speed="0.1″ animation_offset="" class="" id=""][fusion_text]ShaDonna "Mo" McPhaul
Civilian Job: Chief Executive Officer/Founder, Mo's Heroes Inc.
Age: 38
Military Service: Air Force (1996-2016)
Highest Rank: Technical Sergeant (E-6)
AFSC: Administration (3A171)

[/fusion_text][/one_third][one_third last="yes" spacing="yes" center_content="no" hide_on_mobile="no" background_color="" background_image="" background_repeat="no-repeat" background_position="left top" hover_type="none" link="" border_position="all" border_size="0px" border_color="" border_style="" padding="" margin_top="" margin_bottom="" animation_type="" animation_direction="" animation_speed="0.1″ animation_offset="" class="" id=""][separator style_type="none" top_margin="30px" bottom_margin="" sep_color="" border_size="" icon="" icon_circle="" icon_circle_color="" width="" alignment="center" class="" id=""][fusion_text]
OIF/OEF:
• Sept. 2011-Dec. 2011
Al Jabber, Kuwait (Southern Watch)
• Nov. 2004-May 2005 Al Dhafra
United Arab Emirates
• March 2010-Nov. 2016
Bagram Airfield, Afghanistan
(Enduring Freedom)

[/fusion_text][/one_third][/fullwidth][fullwidth background_color="" background_image="" background_parallax="none" enable_mobile="no" parallax_speed="0.3″ background_repeat="no-repeat" background_position="left top" video_url="" video_aspect_ratio="16:9″ video_webm="" video_mp4="" video_ogv="" video_preview_image="" overlay_color="" overlay_opacity="0.5″ video_mute="yes" video_loop="yes" fade="no" border_size="0px" border_color="" border_style="" padding_top="20″ padding_bottom="20″ padding_left="" padding_right="" hundred_percent="no" equal_height_columns="no" hide_on_mobile="no" menu_anchor="" class="" id=""][fusion_text]Three Years Out. Conventional wisdom dictates that anyone retiring from the military should begin
prepping two years out. ShaDonna "Mo" McPhaul did one better: She started three years out.
Mo's Heroes. McPhaul, 38, didn't opt for the traditional corporate or post-military education route. After serving for 20 years in administration, she put her skills to use helping fellow veterans when she launched Mo's Heroes, a non-profit that helps veterans who are struggling to find the resources they need – including job-search resources. "My whole career I was in a support role and my job at Mo's Heroes will be to continue to serve and support in our communities," McPhaul says.
Still Active. McPhaul got her non-profit off the ground while still active duty. In fact, she doesn't even officially retire until December 2016, although her terminal leave began in October. So how did she learn how to set up a 501(c)3? "First, I Googled it and Rocket Lawyer filed the initial documents for me," she says. "My stepmother is an accountant, and she provided me with a checklist. Like most military members, I am good at following checklists."
What's in a Name? The name was inspired by combining McPhaul's nickname "Mo," short for her middle name, Monique, and one of her favorite shows growing up: "Hogan's Heroes." Mo's Heroes now partners with Buffalo Wild Wings and other restaurants to help raise money. She hopes to have a brick-and-mortar HQ in Fayetteville, N.C., and satellite offices in all 50 states by the end of 2017.
Best Advice? "Plan, prepare and practice," McPhaul says. "The military has trained us on what to wear, how to wear it and when to wear it. We need to practice wearing civilian clothes and interacting with civilians in the community and in the workforce. Buy an article of civilian attire at least once a month to build your civilian wardrobe so that it doesn't become a financial burden when the time comes to wear civilian clothes more often."[/fusion_text][separator style_type="none" top_margin="20px" bottom_margin="" sep_color="" border_size="" icon="" icon_circle="" icon_circle_color="" width="" alignment="center" class="" id=""][title size="2″ content_align="left" style_type="single solid" sep_color="" margin_top="" margin_bottom="" class="" id=""]We Had to Ask![/title][fusion_text]Hobbies? Bowling, volunteering, taking my son to "Fun, Fun, Fun" and the park
Childhood hero? Ric Flair
Favorite athlete? Kobe Bryant
Favorite reality show? "Love and Hip Hop Atlanta"
Dream car? Tesla
Top thing on bucket list? Vacationing on a yacht
What about you would surprise most people? I'm a die-hard wrestling fan especially from '80s and '90s
Best concert ever? Nelly
Childhood nickname: Malibu
The world would be better without: Racism and sexism
[/fusion_text][/fullwidth]