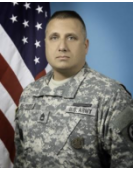 Glenn Josephides
New England Institute of Technology
---
Program Type/Area of Study: Advanced Automotive with High Performance; Automotive Collision Repair; Advanced Marine Technology
Military Branch: United States Army 
Years Served: 24 years AFS (Retired)
Highest Pay Grade: E-7 Sergeant First Class 
MOS: 11B, 79R, 79V
Age: 49
Tell us about yourself:
My name is Glenn Josephides and I am 49 years old.  I retired from the US Army after 24 years.  My time spent during my career was unorthodox.  I was in the Army from 1985-1987 at which time I received a Honorably Discharged and immediately went into Law Enforcement.  After 4 years, I decided to re-enter the Army (1991).  I have deployed in support of "Operation Hurricane Relief" (Hurricane Andrew), "Operation Restore Hope" (Somalia), and "Operation Uphold Democracy" (Haiti).  In 1997, I decided to re-enter the civilian world, however continued serving in the National Guard and then the Reserves.  It was in 2001, that I made a lasting career decision.  Re-entering Active Duty status, I became a Recruiter for the Army.  In 2008, I transferred to become a Career Counselor.  I retired from Active Duty in 2013.
What prompted you to return to school?
One simple phrase sums up why I returned to school after retirement.  I have made it a life motto:  'Life is a learning lesson:  If you don't learn something during the day; that was wasted.'  
Why did you choose New England Institute of Technology?
I have worked on cars as a hobbyist and tinkered with other types of equipment my whole life.  I was self-taught and have never had formal or informal guidance.  New England Institute of Technology not only provided an opportunity for that formal instruction, it also offers associate, bachelor's and master's degrees and not just Certificates of Training.  Their combination of lecture and hands-on application of instruction provides the 'Full Spectrum of Learning.'
What military education benefits, such as the GI Bill, did you use?
New England Institute of Technology is a Yellow Ribbon participant.  I started at NEIT using and exhausting the last of my Montgomery GI Bill (Ch. 30).  Then used my Post 9/11 GI Bill (Ch. 33) with the Yellow Ribbon.
What has your experience been like as a student?
As a 49 year old 'Non-Traditional' student I have a different set of challenges to overcome.  The traditional student is fresh from a learning environment and typically has fewer responsibilities in life.  My academic career has a different set of hurdles in addition to farthing my knowledge; fatherhood and home ownership to mention a couple.  The instructors have been nothing short of magnificent.  Their ability to instruct the complex material at levels to keep everyone challenged and yet not over-burdened is an art skill that not all can acquire.  
What challenges did you have adjusting to campus culture after military life?
The challenge one faces during a transition from a structured to a non-structured way of life has many unique challenges.  Timeliness, accountability, and responsibility are more exemplified in the military, plus there is a level of efficiency in the military that is not appreciated until it becomes void in your life.  
Do you feel like your time in the military made you a better student?
There is absolutely no question that my military time has made me a better student!  Time management, focus, and respect are only a few non-tangible lessons learned that have helped me through all of my aforementioned challenges during my academic career.
What advice could you offer to other veterans choosing to pursue an education?
Be the example!  Maintain your 'military bearing.'  You are looked to as a leader by your fellow students as well as by your instructors.  
Parting comment?
My overall experience at New England Institute of Technology has been very fulfilling.  All three degree programs have proven to be rewarding challenges.  I am looking forward to seeing what adventures are coming as I enter the next chapter of life……. Stay tuned ☺
[fusion_builder_container hundred_percent="yes" overflow="visible"][fusion_builder_row][/fusion_text]
[/fusion_builder_row][/fusion_builder_container]