Richard Overton just celebrated his 112th birthday in his hometown of Austin, Texas. Unbeknownst to him, identity thieves were using his compromised bank account to purchase savings bonds through TreasuryDirect. Despite his well-known affinity for whiskey and cigars, the supercentenarian and World War II vet still requires round-the-clock care that costs up to $15,000 per month.
The elderly veteran"s cousin Volma first discovered the theft after noticing a discrepancy in his accounts while trying to make a deposit, according to NBC Austin affiliate KXAN reporter Kate Winkle.
Richard Overton with Volma Overton, Jr., who first noticed the discepancy in the elderly veteran's bank account.(Richard Overton's Go Fund Me)
Volma checked the balance of the account after making the deposit and noticed that the balance reflected only the deposit made. He then noticed a large number of debits he couldn't understand.
"What the hell are these debits?" Volma recalled thinking. Overton's bank and TreasuryDirect are aware of the transactions are are taking appropriate measures.
Overton is a staple of the Austin community, a well-known personality who receives well-wishers from around the city on his birthday every year. He is featured on one of the city's murals depicting influential African-American and Latino personalities. On his latest birthday, he received a visit Austin mayor, Steve Adler.
 The 112-year-old is reasonably famous, especially among locals and much of his personal information is available online — though not his bank account and social security numbers. The drained account is separate from a GoFundMe account the family uses to raise money for Overton's care.
His GoFundMe account keeps Overton in his home and away from having to live in a nursing home. Born in 1906, he has outlived all his closest relatives and requires $480 a day for his constant care.
This article originally appeared on We Are The Mighty
More From We Are The Mighty
5 Reasons Why Troops Stick Together After the Military
4 Reasons Why Showering On Deployment is Disgusting
7 of the Greatest Songs Every Veteran Knows
6 Things You'd Take Back Before Leaving the Military
6 Dumb Things Veterans Lie About on the Internet
Follow We Are The Mighty on Twitter
READ NEXT: THIS PILOT SHOT DOWN AN ENEMY AT PEARL HARBOR IN HIS PAJAMAS

Summary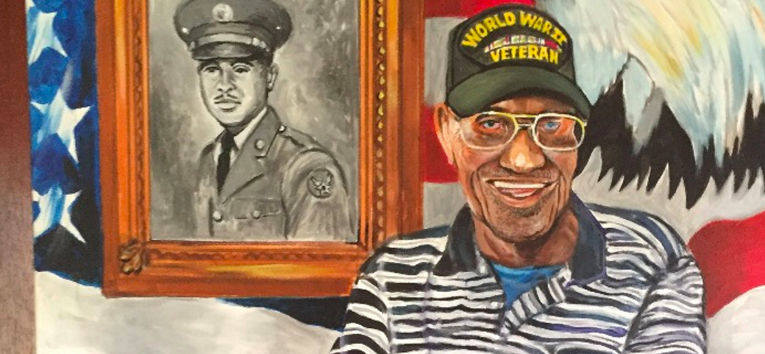 Article Name
Thieves Drained the Bank Account of America's Oldest Veteran
Description
Richard Overton is 112 years old, and is America's oldest living military veteran. He was recently the victim of Identity theft, which left his bank account drained.
Author