Army Air Forces Lt. Col. Louis E. Curdes got a piece of every original signatory to the Axis Pact: Germany, Italy, and Japan. If that wasn't outstanding enough, it's how he got an American flag kill mark on his fuselage that earned him a place in military history — and maybe even the Distinguished Service Cross.
It's not a mistake. The young, 20-something pilot earned every single one of his kill marks. He joined the Army Air Corps in 1942 at the age of 22 to fly planes against the Nazis. By 1943, he was a hotshot lieutenant scoring three kills against Nazi Messerschmidt Bf-109s, the workhorse of the German Luftwaffe, in his P-38 Lighting. That was ten days into his first assignment. Within the next month, he notched up two more kills, earning fighter "ace" status.
In August of that year, he ran into an Italian Macchi C.202 and shot that one down. Unfortunately, that was his last combat kill over Europe. He was shot down by Nazi pilots over Italy and captured by the Italians, resigning himself to spending the rest of the war in a POW camp.
But that didn't happen. Italy capitulated a few days into Curdes' internment.
Then-Lt. Louis E. Curdes.
Curdes was then sent to the Philippines and put behind the stick of the new P-51 Mustang fighter, going up against talented Japanese pilots. He was quickly able to shoot down a Japanese recon plane near the island of Formosa. His hat trick was complete, but that's not where the story ends.
He and his plane, "Bad Angel," were fighting over Japanese-held Bataan when his wingman was shot down over the Pacific. Soon after, he saw a C-47 transport plane, wheels-down, headed to land on the Japanese island. When he was unable to make radio contact, he tried to physically wave the transport off, but came up empty. So, rather than allow the American plane and its crew to be held prisoner by the Japanese, he used the option left: He shot them down over the ocean.
Baller.
Curdes skillfully took out one engine and then the other without blowing the entire cargo plane to bits. He was able to bring the C-47 down just yards from his downed wingman. Curdes returned to the site the next morning as an escort to an American "flying boat." The pilot, crew, and its human cargo were completely intact.
Among the passengers he shot down was a nurse Curdes dated just the night before, a girl name Valorie — whom he later married. The story was rewritten by Air Force Col. Ken Tollefson in his book US Army Air Force Pilot Shoots Down Wife.
Internet legends tells the story that he was awarded the Distinguished Service Cross for downing the unarmed cargo plane, but his citation was so ordered for actions while in the European Theater.
Curdes "Bad Angel" P-51.(Pima Air and Space Museum)
He still wins the best "How I Met Your Mother" story of all time, though. His P-51 named "Bad Angel" is in the Pima Air and Space Museum in Tucson, Arizona.
This article originally appeared on We Are The Mighty
More From We Are The Mighty
5 Reasons Why Troops Stick Together After the Military
4 Reasons Why Showering On Deployment is Disgusting
7 of the Greatest Songs Every Veteran Knows
6 Things You'd Take Back Before Leaving the Military
6 Dumb Things Veterans Lie About on the Internet
Follow We Are The Mighty on Twitter
READ NEXT: HOW TO RANK YOUR CHALLENGE COINS

Summary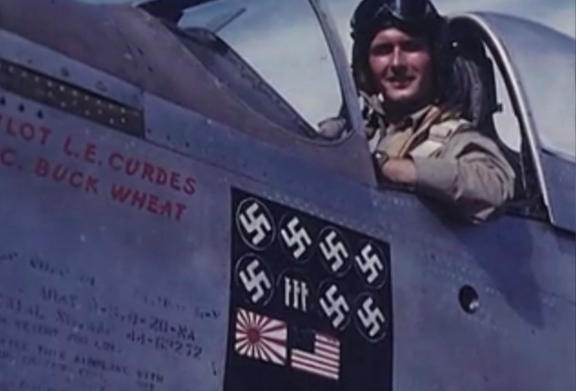 Article Name
American WWII Pilot Was a Hero for Shooting Down a U.S. Plane
Description
Army Air Forces Lt. Louis E. Curdes had an insane story. Earning the designation of an "Ace" pilot, Curdes had downed 10 enemy aircraft. But maybe his most important shot came when he brought down a U.S. plane.
Author