SPONSORED
Sgt. Kendrick Bell wanted a job with a strong leadership role when he was separating from the Air Force. But when he was approached by 7-Eleven Inc., Bell admits he was nervous
about entering the retail industry, even though it was with 7- Eleven.
In 2014, 7-Eleven made our HOT franchises list.
"At first I was shaky. I thought '7-Eleven?' I had never thought of working in  the retail industry and had never thought of working at 7-Eleven," he said.
Fortunately for Bell, he kept listening. Tyrone Tobias, veterans recruitment program manager, explained the opportunities at the company, including the field consultant trainee program, a retail industry leadership position. He had Bell's attention.
"You don't think of what is behind the store, you just think of the counter at the front of the store. The more I learned, the more I liked," Bell said.
What sounded good to Bell, 31, about 7-Eleven was the responsibility and leadership skills required to be in the field consultant program. Even still, Bell wasn't sure his background would meld into the level of responsibility required to oversee several stores within the fast paced retail industry.
"But I loved the leadership aspect and decided to give it a try," he said.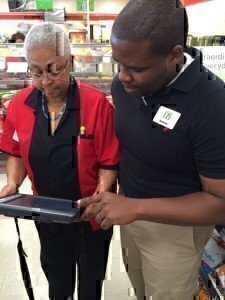 Currently a field consultant trainee, Bell will ultimately oversee several retail stores to ensure they follow the high standards of the organization and maximize profits.
"When people say, 'What the heck does a field consultant do?' I tell them it is like a district manager and they get it," Bell said.
Bell's nervousness about a career in retail isn't all that unusual for veterans, according to Tobias.
"Many veterans are often amazed by the amount of time invested in training our future leaders for success. They are equally surprised by the numerous career opportunities 7-Eleven offers, from operations management and real estate, to IT and human resources," he said.
If you are interested in learning more about careers in technology, read Top Paying Tech Degrees For Veterans.
Bell started with 7-Eleven in December 2014 immediately after he separated from the Air Force.
"I love seeing my team be successful – at first I was the new guy at the store and I had to work really hard to prove myself. But it is very rewarding to see how much we've grown," Bell said.
Finding a Home
David Jeffrey wanted to stay in Nashville, and that was limiting his career options. Fortunately, he found Dollar General. Now a planning and budgeting manager at the corporate headquarters, Jeffrey, like Bell, was nervous about bringing his Army logistics skills into the retail world.
"I had different roles and experiences in the Army, but I'm doing the same type of work in an expanded role here," said Jeffrey, 29.
He also liked the leadership aspect of his new career.
"As a former platoon leader, I was used to being in charge of 35 soldiers. This opportunity has allowed me to supervise and interact with groups of 75 or more," he said.
Like Bell, Jeffrey didn't think about retail careers, but at Dollar General, Jeffrey feels he has found
a home.
"There are so many facets to retail with a whole set of opportunities – you don't think about distribution and logistics or so many other types of opportunities, but they are there," he said.
*This content is sponsored by 7-Eleven

READ NEXT:  Need a Job? These 3 Industries Are Hiring