Afghanistan veteran, Daniel Rodriguez (dressed in white), appeared on the August 2014 Cover of G.I. Jobs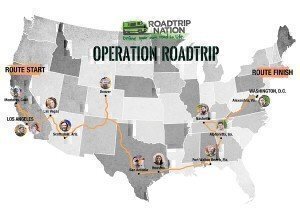 Three military veterans recently embarked on a 3,000-mile journey with Roadtrip Nation in a quest to discover a clearer path to meaningful civilian careers. During their four-wheeled career fair, the trio traveled from Los Angeles to Washington, D.C., interviewing other veterans who have successfully transitioned to the civilian workplace.
Roadtrip Nation's distinctive lime green recreational vehicle made stops in Nevada, Arizona, Texas, Florida and Georgia, connecting road-trippers with a distinguished group of veterans, including Art delaCruz of disaster relief organization Team Rubicon, Jas Boothe of Final Salute, former mixed martial artist Brian Stann of Hire Heroes USA, and former NFL player and author Daniel Rodriguez, who shared with them all post-military life has to offer.
"It has been a great experience talking to amazing veterans, inspiring veterans, about their lives and how the transition from military back to civilian life has been for them," road-tripper Bernard Edwards said on the final day of the 28-day journey from Washington, D.C.
Career exploration organization Roadtrip Nation joined with the USO Transition 360 Alliance to send the veterans on "Operation Roadtrip," a journey that was made into a feature-length documentary that will be broadcast on PBS stations on Veterans Day.
"At this time in history with the number of service members transitioning to civilian life in the next five years, we knew this was something Roadtrip had to do," said Mike Marriner, Roadtrip Nation co-founder. "With our mission, it was something important for us to focus on."
Air Force veteran Edwards, Army veterans Sam Shockley and Helen Chandler  – the three road-trippers – all have left the military within the past two years and faced varying challenges as they search for firm footing in the civilian workforce.
Shockley, 28, enlisted in the Army in 2007 after finishing high school and quickly rose up the ranks to staff sergeant. Though the combat engineer anticipated making the military a career, his plans got shattered in 2013 when he stepped on an improvised explosive device while performing route clearance in Iraq, losing both his legs. Shockley spent two years recovering at Walter Reed Medical Center in Maryland and was living in Tacoma, Wash., when he got selected for Operation Roadtrip.
Shockley says interviews with CrossFit athlete Derek Weida, an Army veteran who lost a leg in Iraq, and former Army Ranger Mat Best, a video satirist and entrepreneur, have inspired him to become an advocate for veterans. But Shockley said the trip also was a "wake up" call that made him recognize he no longer could "dabble" in things but had to develop a plan for his future.
"From wherever you served, whatever you did in your military career, you can be successful. You can move forward. That's what I am going to take out of it – the bigger picture, the bigger message," Shockley says. "Honestly, I am a better person today than before I left on this trip."
Chandler, who was medically retired from the Army in 2015 due to a head injury sustained in a training accident, hopes her participation in Operation Roadtrip raises awareness about the "invisible wounds" veterans and others may carry through life and highlights the
difficulties veterans face when transitioning.
"I got lucky that I was taught early on to save and prepare for [leaving the military]," the former medical service corps officer said. "But I wasn't prepared for the final ending – the now you get to sit home and watch TV until you find the next thing you are good at."
Chandler, 33, would like to become an investigator who fights human trafficking and child exploitation, but her road-trip interviews opened her eyes to the many ways she can serve others.
"On this road trip, I found Art delaCruz of Team Rubicon and Jas Boothe with Final Salute," Chandler said of the veteran-lead nonprofit organizations. "I realized I can give back in other ways, whether it be humanitarian missions or just sitting down with a homeless person… There is a calling for me to help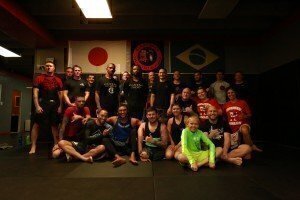 people in some way."
While Boothe's personal story includes overcoming cancer and a period of homelessness following Hurricane Katrina, her message to the road-trippers centered on understanding why transition can be difficult for all service members. She says the military provides a built-in support network of battle buddies and a supportive command structure that is lost the day service ends.
"The hardest part about transitioning as a veteran isn't leaving the military," Boothe says. "The issue is you become an individual and it is you against the world…Being a veteran is a very intimidating process because it is an isolating process."
Boothe formed Final Salute in 2010 to provide homeless female veterans with safe and suitable housing since many transitional housing programs for veterans do not accept women. Her advice to other veterans is to support one another.
"We're not getting the right hand-off when we get into American society," Boothe says. "That's what is hurting us."
As a fledgling entrepreneur who wants to transform his Unconventional Veteran counseling service for transitioning veterans into a nonprofit organization, Edwards, 35, expressed gratitude for the knowledge Boothe passed on to road-trippers.
"The amount of information she gave and the amount of time she spent with us hanging out and telling us about her nonprofit and how she helps homeless female veterans was super inspirational to me," Edwards says.
When Operation Roadtrip is broadcast Nov. 11, Marriner believes transitioning veterans will be seen in a new light.
"I hope we can amplify the veteran's voice and paint an aspirational picture of the hopes and dreams veterans have for their future post-serving," Marriner says. "A lot of the media focuses on the trauma and issues veterans deal with. We hope to focus on the road ahead for veterans and the potential paths that exist for them. We want to strike a very hopeful tone by sharing the stories of veterans who have made that transition, the paths they've taken and the lessons they've learned."