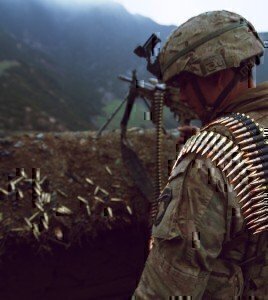 Maybe you patrolled outside the wire in Afghanistan and don't care to go back. If you do, or if you've never been, you can check out a new film shot down range called "The Hornet's Nest" without ever leaving Fort Living Room.
The film stars real-life father and son journalists Mike and Carlos Boettcher, Emmy award-winning correspondents embedded with U.S. troops in Afghanistan during the troop surge. Through their eyes, audiences get unprecedented access to the front lines of battle.
The Hornet's Nest is a groundbreaking and immersive feature film, using unprecedented real footage to tell the story of an elite group of U.S. troops sent on a dangerous mission deep inside one of Afghanistan's most hostile valleys. The film culminates with what was planned as a single day strike turning into nine intense days of harrowing combat against an invisible, hostile enemy
in the country's complex terrain where no foreign troops have ever dared to go before.  What resulted is an intensely raw feature film experience that will give audiences a deeply emotional and authentic view of the heroism at the center of this gripping story.
"The Hornet's Nest film is one hundred percent real soldiers and marines, risking their lives for each other, seen through a father and son's perspective. The film has a huge heart and is action-packed," directors David Salzberg and Christian Tureaud said in a joint statement. "This film gives you a never-before-seen view of the sacrifices, patriotism and dedication our troops face every day in battle. We are honored to part of the team that created 'The Hornet's Nest.'"
The film will be released this Friday, May 23 nationwide.