Drinkin' Bros Podcast
With over 400 podcasts and growing, Drinkin' Bros is a popular veteran-run show featuring humor and serious content alike.
Drinkin' Bros was created by Army veteran and ex-contractor Mat Best and Air Force munitions guru-turned-spirits entrepreneur Jarred Taylor. This dynamic duo teamed up with a coffee fanatic and ex-Special Forces vet Evan Hafer and entertainment junkie Ross Patterson. Together they created an over-the-top podcast show dedicated to making sure "you never drink alone… at least that's what their excuse is."
Mature Content is the key phrase when it comes to Drinkin' Bros. And they truly deliver with plenty of cursing and shenanigans. From shows with names like "Too Buzzed To Air – You Quit Your Job To Makes Memes???" and "Bathroom Power Moves," the boys also manage to wrangle in a slew of high-octane special guests, ranging from adult film actresses and sports stars to Rob O'Neill, aka The Man Who Killed Osama Bin Laden.
Drinkin' Bros not only has a website and Player.FM station, but they also feature their shows on YouTube. They are more than a mere podcast. They liken themselves to a "VFW for the post 9-11 crowd," and feature numerous Facebook groups.
Fieldcraft Survival Podcast
Hosted by ex-Special Forces veteran Mike Glover, the Fieldcast Survival podcast is a professional "informative series in survival, tactics, defense, politics, guns, fitness, off-roading, military, and gear."
Fieldcraft is on on iTunes and SoundCloud,  which currently runs to over 110 no-nonsense episodes. They also venture into retail sales related to medical and training equipment via their website. Fieldcraft Survival even sell survival food, holsters, and Tribe subscription packages to their online training courses!  Fieldcraft Survival also hosts an in-person training events around the nation, including courses on Combatives, First Aid, Gun Fighter Pistol, and Gun Fighter Carbine.

Jocko Podcast
Jocko Willink is a retired Navy SEAL officer and co-author of The Dichotomy of Leadership. Possessing extensive leadership and speaking experience with a range of companies and institutions, Jocko is the real deal. His show bears a strong slant towards leadership lessons, ownership, and motivation. Jocko has numerous podcasts (171 of them, as of this writing!) run two to three hours long…far lengthier than the average. Each episode comes with a breakout of topics covered. There's no standard rock music intro, or opening plugs for sponsors. Jocko cuts straight to the content, which is serious, focused, and unabashedly patriotic.
Apart from the stellar, inspirational audio content, a cool bonus feature of Jocko's site is his instructional page for those who want to set up their own podcast. He breaks it all down, listing recommended equipment and even a how-to video.
With Leif Babin, Jocko also runs Echelon Front. This leadership training site offers customizable field exercises. They also have online training, keynote presentations, and talent recruitment services through its subdivision, EF Overwatch.

SOFREP Radio
SOFREP Radio is produced and co-hosted by Ian Scotto of Long Island. "On time, On Target," SOFREP is closing in on its 450th episode with its main host, Army Ranger/Green Beret Jack Murphy.
Featured guests on the show have included Astronaut Buzz Aldrin, Rob O'Neill, and author Brad Thor, among countless others. These episodes revolve around serious topics, such as "Army helicopter pilot Richard Jellerson talks MIA advocacy and coming back from Vietnam." So if you're looking for humorous content, this is not the place.
But for those interested in fascinating, first-hand historical war accounts and insightful discussions on modern issues that veterans are facing today, then SOFREP Radio is your new go-to podcast!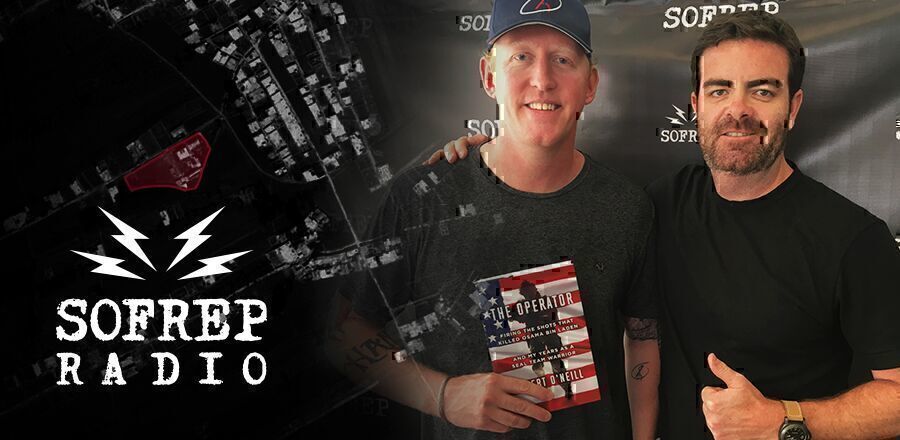 Pop Smoke Podcast
When you just want to relax and enjoy some lighter fare, The Pop Smoke Show podcast is a fun alternative. Created by friends working hard to network with creative artists and fellow veteran entrepreneurs, this podcast is short and sweet, with a focus on online business ventures. New episodes will be hitting the air, but in the meantime, their existing content is worth a listen.
There's also Pop Smoke Media, run by former Marines Daniel "El Guapo" Sharp and Alexander "Apollo" Pfeffer. Pop Smoke Media is an irreverent. They are up-and-coming venture dedicated to "serving the veteran community, raising awareness of issues faced by our brothers and sisters, and having a few laughs in the process." The Pop Smoke Media crew have YouTube videos, many of which are audio-only, as well as short comedy sketches.
Eagle Nation Podcast
Operated by Team RWB, a charitable non-profit, the Eagle Nation Podcast is a highly-popular show. It focused on helping to promote wellness and activity among veteran populations. With nearly 200 locations and over 160,000 Team RWB members, this show is clearly well-connected and features professional, top-notch content designed to improve lives and communities.
From mental wellness to Crossfit to medical cannabis, this show offers something for everyone. It always features well-known experts and leaders in their respective topical fields. Episodes rarely go over an hour in length, and each features a short break out of the areas covered.
As stated on their main site, Team RWB mission is "Enriching the Lives of America's Veterans." Eagle Nation Podcast is merely one of the many methods they use in reaching that lofty goal!
READ NEXT
(VIDEO) Submit to G.I. Jobs Today!
6 Veteran Influencers to Follow into 2019