Marcus Kuboy's road to the University of St. Thomas was a long one.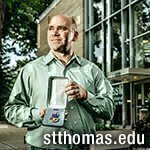 Long before he set foot on the campus in St. Paul, MN., Kuboy was a solider in the U.S. Army who in 2006 had been deployed to Iraq. Toward the end of his first year there, the truck he was traveling in was hit by a bomb during an attack, which broke both his feet and lower legs, lower back, left arm and jaw, and caused him a traumatic brain injury.
Kuboy spent 10 months in the Walter Reed Army Medical Center in Washington, D.C., and another six months at the Minneapolis VA. The experience reached a pinnacle when one of the soldiers involved in the attack with Kuboy committed suicide.
That event drove Kuboy to dedicate his life to the prevention of such tragedies.
Kuboy's dedication led him to become involved in social work, which he found to be a positive way to tackle the issues of living with such experiences. His interest in helping others led him to pursue a degree in social work, which led him to the University of St. Thomas.
"Going to school was one of my goals while I was in Iraq," Kuboy said. "While I was in the hospital, I reevaluated my goals and kept them. The death of my fellow soldier gave me focus."
Kuboy said his military experience aided him in the classroom, even if a traditional education environment doesn't come naturally.
"I love to learn, but I'm not a 'natural student'," Kuboy said. "I can have a difficult time in a classical classroom setting. However, because of my military background, I tend not to become stressed out in difficult situations, and I'm able to dig a little deeper into my work."
Kuboy is just one of the many of transitioning veterans who each year choose traditional, two- or four-year colleges as the route to success when it comes to their future careers. Colleges and universities across the country, like some of those listed below, offer counseling, benefits, and other forms of support for servicemen.
Transitioning from military to college?
Penn State Worldwide
Location: Online
Penn State World Campus is the online campus of Penn State.
Penn State is nationally recognized institution with the largest alumni network in the country.  A Wall Street Journal survey ranked the institution #1 in the nation for producing the best-prepared, most well-rounded graduates who are most able to succeed once hired.
Founded in 1855, Penn State has a long relationship with the military.
Military training is part of Penn State's early curriculum and the university's  ROTC program, established in 1916, has commissioned over 7,000 officers. In Fiscal Year 2014, the Department of Defense (DoD) awarded Penn State $189M for research projects, making it ranked among the top schools nationally for DoD funded research.
The World Campus offers over 125 online programs, the reputation of a major research university and policies and practices that support military/veteran students.
Penn State World Campus awards academic credit for military training/experience and offer reduced tuition for servicemembers and their spouses studying at the undergraduate level.
Veteran Profile Snapshot: Michael S. Conrad,
Online Bachelor of Arts in Psychology
Years Served: 16
MOS: Aviation Electronics Technician
Earning a college degree can be challenging when you're in the military.
Yet, Petty Officer 1st Class First Class Michael S. Conrad, an aviation technician stationed at USCG Air Station Atlantic City in New Jersey, isn't letting the demands of 10-hour workdays and a family of four stop him from earning a bachelor's degree in psychology. Conrad, 37, is four classes away from earning his degree online from Penn State World Campus.
"I love the personal attention that the professors give even though we are online students," Conrad said. "I have never had a question go unanswered or unexplained. I could not even say that for the classroom experience I had in my first year at college."
Read more of Conrad's student profile here.