[fusion_builder_container hundred_percent="yes" overflow="visible"][fusion_builder_row][fusion_builder_column type="1_1″ layout="1_1″ background_position="left top" background_color="" border_size="" border_color="" border_style="solid" spacing="yes" background_image="" background_repeat="no-repeat" padding="" margin_top="0px" margin_bottom="0px" class="" id="" animation_type="" animation_speed="0.3″ animation_direction="left" hide_on_mobile="no" center_content="no" min_height="none" last="no" hover_type="none" link="" border_position="all"][fusion_text]
Cory Halvorson
University of Nebraska at Kearney
---
Area of Study: Master's in History
Military Branch: United States Air Force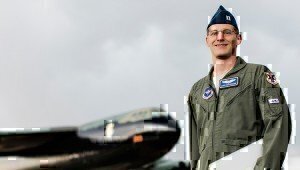 Why did you decide to pursue higher education?
I wanted to become an officer in the Air Force and to be considered for an officer position, you need a bachelor's degree. In the Air Force, they pay attention to how you are developing yourself and how you are becoming a better officer. I also wanted to get my graduate degree while I could use the GI Bill and knew that it was important to get my graduate degree to keep working outside of the Air Force.
How did you stumble upon the University of Nebraska?
I wanted to find a credible university and make sure I was investing my time, money and effort wisely. I wasn't going to go somewhere that was nearby because I was only living in places for a few years due to training. So I needed to find something that was online at a credible university that I would proud to have on my wall. That's when I found the University of Nebraska at Kearney (UNK).
How has your experience been as a student in the military?
Throughout my enrollment at UNK, I deployed twice to Guam. I never had a single problem; I could be tasked with last-second missions and all my teachers were very accommodating.  Even through deployment, I was able to knock my degree out in two and half years, which isn't that different than an average master's student might take to finish a degree.
How did you manage to fit studying into your schedule?
Being deployed was a gift and a curse at the same time. It was a curse because I was away and the time difference was 16 hours from central time. But it was also a gift because when you're deployed, you don't have any obligations such as a car or washer breaking down. Once I was done with flying or work for the day, I came home and hit the books, filling out worksheets and writing papers. It is demanding, but if you put in the time and effort, it goes by very quickly. The university and the faculty are very accommodating and extremely helpful, and they understand the demands for servicemen and women who at the drop of a hat might have to go out and not be able to meet that Tuesday deadline. They were very willing to make their schedules work for you.
What do you hope your master's degree will do for you professionally?
For the Air Force, it's something that's going to go on my record. They will be able to see that I pursued education outside of my service. Once I'm out of the Air Force, I'm hoping to teach university level history or teach at the academy or United States Air Force preparatory school as an active duty officer. That's something that will be available if I have a master's degree.
What does your master's degree mean to you personally?
My goal is to go back and get my Ph.D. when I'm done with the Air Force. I've always been a lifelong learning and reader, and I really take my education seriously. I always want to make sure that I get my degrees from a school that I would be proud to hang on my wall.
What advice do you have for other students considering an online degree?
Be prepared to put in the time and effort in an online program that you would if you were staying in residence at the university. As long as you can get over the hurdle of not being able to go into office hours or raise your hand right away to get a quick response, you'll do fine. Just remember, in the end, you're going to get from UNK, or any regionally accredited university, a degree that you're proud of; it will take you places.
[/fusion_text][fusion_text][/fusion_text][fusion_text][/fusion_text][/fusion_builder_column][/fusion_builder_row][/fusion_builder_container]