USMC Veteran Kyle Gourlie spent his 20th birthday in Iraq. As the final weeks of his seventh-month tour as a machine gunner approached, the Humvee he was atop of was blown up in Ramadi. That moment derailed Gourlie's military career but propelled him toward a civilian career he would never have anticipated.
Today, Gourlie, 32, is owner-operator of The Vet Chef™, a Southern California-inspired Mexican-style food truck pulling in five-star reviews in the Seattle suburbs. He discovered his love for cooking while rehabbing from his injuries at Scripps Memorial Hospital in Encinitas, Calif.
"I was very lucky to get very good care," Gourlie says. "Part of that help was learning to do simple, basic tasks again. One of those everyday activities was working in the kitchen."
After being medically retired from the Marine Corps in 2008, Gourlie used his Post-9/11 GI Bill to attend the Art Institute of Seattle, graduating with honors in 2013 with a degree in culinary arts management. It was not a path he would have predicted for himself.
"[Before the injury] I knew how to do basic things cooking, but I was by no means a chef. Never in a million years did I think I would be where I am today," he said.
In culinary school, Gourlie discovered a "passion" for learning, an ingredient that had been lacking throughout his high school career.
"I barely graduated high school and then I graduated college with honors," he said. "It shows you that something you are actually passionate about you will spend more time learning. Halfway through, I thought it would be really cool to open a restaurant."
Gourlie opted to open a food truck rather than a sit-down restaurant because he could start the business for about $40,000. He kept expenses to a minimum using his personal truck to pull the restaurant-on-wheels Vet Chef trailer. After two years in business, The Vet Chef's success has him planning for the addition of a second truck. Gourlie's goal is to one day expand the business to other states, creating the Vet Chef brand of veteran-owned and operated food trucks.
"I would like to employ tons of veterans in a job where they have the ability to give back to their communities," he says. "That is part of the reason they joined the military, and culinary arts are a great way for veterans to get back into society. It's something they can create and enjoy and have pride in."
Gourlie credits his wife Amanda, who serves as business manager, with being the "brains" behind The Vet Chef. His other employers are all veterans or military-connected family members, but he admits finding veterans to hire has been surprisingly hard to do.
"I thought with all this talk about how hard it is to find a job that it would have been easy, and it was almost impossible for us for months to find somebody to hire," he said.
After failing to attract workers using Craigslist, Zip Recruiter, and other traditional channels, Gourlie turned to his former culinary program and found his two newest employees, an Army veteran and a former Navy dependent. Lauren Witt, 26, is the daughter of a Navy veteran. Though she is studying to be a pastry chef, Witt says she is gaining valuable experience working under the guidance of a chef with formal culinary training. She also is enjoying the camaraderie the veteran-laden workplace offers.
"I'm very much a Navy brat," Witt explained. "Kyle, taking me on, we share a lot of the same mentality of military families – not so much the same experiences because he is former military – but we understand each other."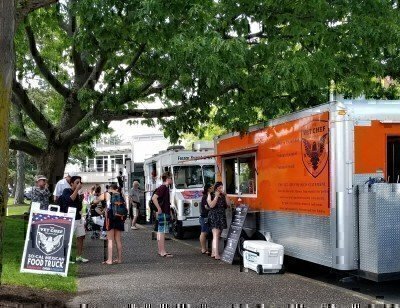 The Vet Chef's weekly schedule includes lunchtime visits to business parks and marinas near Everett Naval Station, as well as stops at breweries and special events in the greater Seattle area.
"It's been a blessing," Gourlie says of the interaction with the community. "Literally, we can pull up someone we have never been before and have a line simply because people are supporting veterans. I'd like to think our food is pretty darn good, but people have to try it before they can say that."
Though culinary arts training honed his cooking skills, Gourlie credits the Marine Corps with laying the foundation for his success.
"I was a very, very different person before the military," he explains. "It's not that I was on a bad path, but I was on a different path, I'll put it that way. One of the best things about the military is it teaches you respect and work ethic and basically how to put your head down and get the job done. Don't ask questions. Just do it."
Gourlie's time at Camp Pendleton Marine Corps base also was his introduction to SoCal-style Mexican cuisine. The Vet Chef's signature items – a California burrito, Cubano burrito and Carne Asada "Nacho" Fries (crinkle cut fries topped with steak, cheese and crema and served with homemade salsas) – are unlikely to have found their way onto the Washington state native's menu had it not been for his time in Southern California.
Gourlie recommends veterans take advantage of the opportunities afforded to transitioning service members, including assistance from the Small Business Administration and other agencies that are more than willing to assist a veteran-owned business.
"There are so many programs nowadays that can help veterans," points out the USMC Veteran. "You are the only one stopping you. You are the only one holding yourself back."
READ NEXT: 8 Best Industries for Veteran-Owned Businesses
READ NEXT: Why The Military Is The Best Entrepreneurship Training Program In America