If you've thought about owning your own business after the military, franchise ownership might be a perfect opportunity for you. Before you commit and buy a franchise, Jack Child, a former pilot and veteran of both the US Army and Air Force shares how he got into the business of franchises for ONLY veterans.
Child owned a maintenance and parking lot striping business years ago, which he franchised. He saw the opportunity for veterans to buy a franchise and succeed as business owners. Since that original franchise, he's expanded to offer 4 additional concepts in the service industry.
His company, Veteran Service Brands*, is the umbrella organization for affiliated veteran-only franchise brands G-FORCE Parking Lot Striping, Mach One Epoxy Floor Coverings, Field Ops Athletic Field Markings, and Paint Corps Residential and Commercial Painters.
How Jack Child Got Into Franchising for Veterans
"I tried very hard to find veterans to join our group. It was a big challenge," he recalls.
He sold his business in 2012. Fast forward to 2018. Child wanted to get back into the business but find a better way to recruit veterans. He thought veterans would be a great fit for franchises. He said it was a win-win for franchises and veterans saying, "You've got franchisees who know how to follow a system, show up on time, in uniform, get the job done. It's also a win for veterans who want to get into a business but don't know where to start. They don't know how to do branding, marketing, selling, business systems. We thought it was a good way to recruit veterans—to make it all about them," he said.
Ready To Buy A Franchise? Here Are 4 Veteran-Operated Franchise Opportunities
G-FORCE is the first franchise brand exclusive to military veterans. "That's worked out real well because frankly recruiting into the parking lot striping business is kind of a heavy lift. Most people don't think about how those stripes on a parking lot get there, or they don't realize they're actually rejuvenated every couple of years. It's a really interesting niche little business.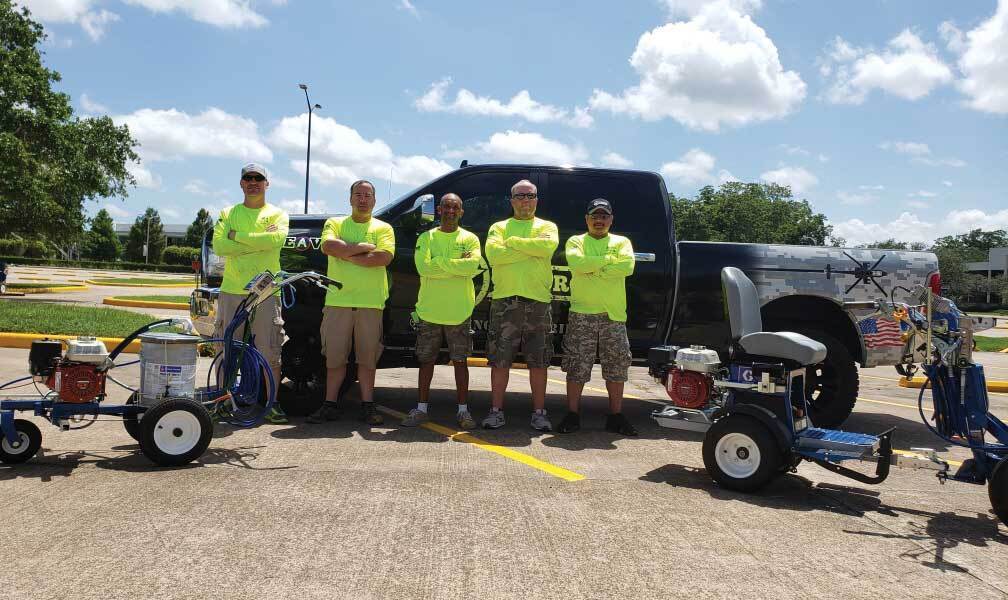 By making the brand about veterans…it opens the door a little bit for us to have a conversation about why it might be a good business for them to consider," he said, adding, "Not one of our almost 30 franchisees ever dreamed of being in the parking lot striping business. Once they look under the tent, dig around, do some research, talk to our franchisees…once they talk to our franchisees it's generally really easy to recruit. We have a lot of happy franchisees. We're really blessed."
The company recently launched three additional brands, all exclusively for veterans. The first was Mach One Epoxy Floor Coverings in 2021. "We do fancy garage floors. There is a big demand in big box stores, restaurants, airplane hangars. Epoxy and similar-type coatings is really the big business right now," Child said. They sold their first two Mach One franchises to current members of their G-FORCE Group. "Two of our existing franchisees wanted to get in on the ground floor of Mach One," he said.
Another brand coming to market is Field Ops Athletic Field Markings. "We were getting a lot of requests to do athletic field marking. Our existing equipment was sort of equipped to do it, but it wasn't exactly right for many of the fields. We were turning away a lot of work."
Not only were they turning away work, they were turning away potential veteran franchise owners. Child said, "We were also turning away a lot of people who wanted to get into G-FORCE but the price was a little high. [We're] designing Field Ops to be a super low-cost franchise. If the prospect has as little as $20K and a pickup truck, they can be all-in, between franchise fee, equipment needed, training website. It's a neat little business. It's probably ideal for someone who's retired—someone who wants a business but not an all-consuming business."
The fourth brand to launch is Paint Corps, a franchise that evolved from a relationship Child built with a relative of one of G-FORCE's first franchisees. "We think that will actually be our biggest brand overall because there is such a high demand for home painting—interior, exterior, plus commercial painting. This young man has grown his business in four years—24 service techs, 11 service vehicles, full-time staff. It's a really big operation. He's got some great systems that he's going to be able to share with our fellow veterans."
He explains Paint Corps is an owner/manager role. "We don't expect the owner to be out there painting houses. It's really an owner/manager. The other brands are owner/operator where you can transition to owner/manager over time. The power of all these brands with networking and being able to throw each other work is incredible. And between Paint Corps and G-FORCE, we buy a lot of paint, which gives us a lot of leverage with the manufacturers to negotiate pricing."
How To Buy A Franchise
Child said veterans are well-suited to step into an entrepreneur role. "I think to put it simply, veterans get things done. Just because of their backgrounds … as great as my training was in the military, I was always faced with new challenges. By having all those successes over the years to get things done, I think it makes veterans ideally suited to be an entrepreneur, particularly in the franchise space. They can get things done but can also follow a system."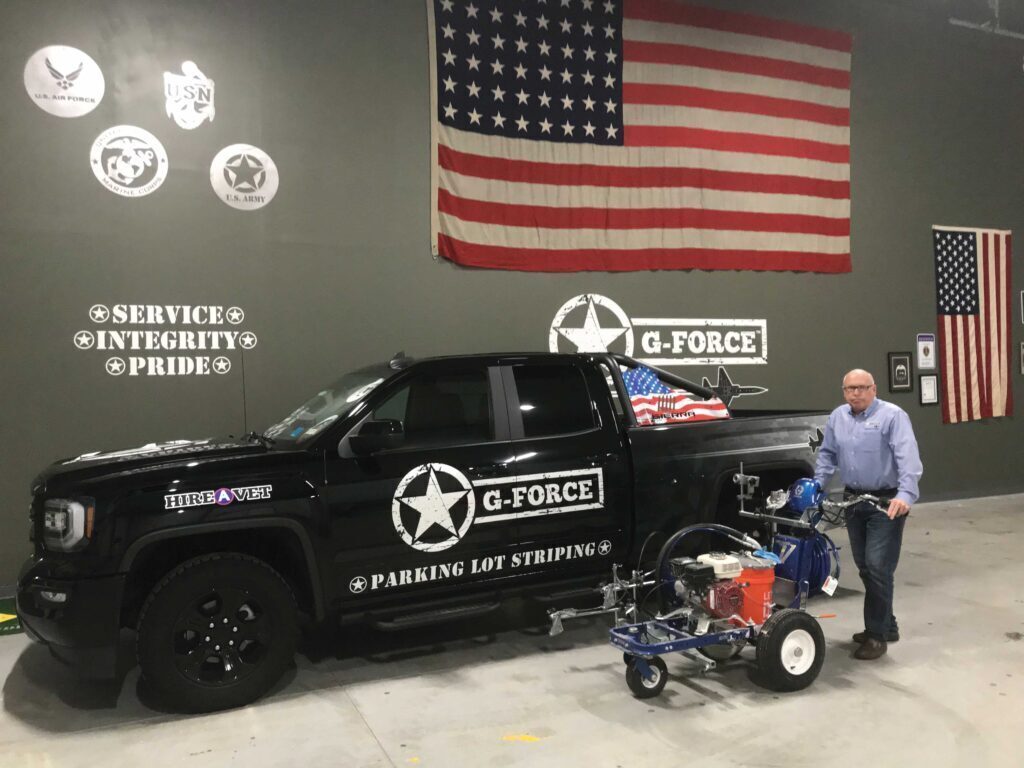 Child expects to add 50 new franchises across all four brands. His team is offering a deep "Founders' Discount" for the first five Mach One, Field Ops, and Paint Ops franchisees.
Child's team works with veterans interested in becoming franchisees, including steps to secure financing through the Small Business Administration (SBA). G-FORCE handles the recruitment and branding/marketing for all four franchises. Child said it's a great time for veterans to consider a career in the service industry, and there are plenty of opportunities to get in on the ground floor with G-FORCE.
Looking Towards The Future
"The service industry is hot right now. I don't see that abating. Don't necessarily picture yourself doing the work, per se…a lot of the service businesses or franchises—you are the owner/manager. Also, think outside the box. Sometimes things we find are really interesting or cool are often just a fad. All of our brands are pretty meat and potatoes. Parking lots—they're boring, we love that. They're not glamorous. Awesome. It's a great place to be—in the non-glamorous spot."
For more information on franchise opportunities with G-FORCE, visit gogforce.com.
You can also look into a mentorship to find a franchise that's best for you. Connect with an IFPG Certified franchise coach to get advice on selection, legal, and financing.
*Company is a paid client.