Going out on the town with a group of veterans is definitely an experience that all civilians should try at least once. Not only will it dispel any preconceived notions that a civilian might have about the troops — we're not all crazy and loud — it's also a crash course in military culture and etiquette.
It's the best way to learn all of the little details, like where veterans naturally position themselves in a bar (to get a better view of everyone coming in and out) and how they'll instinctively form a wedge formation as they walk (a secure way of moving from one place to another).
Once you notice this one, you can never unsee it. This is how pretty much all vets walk in a group.(Photo by Sgt. Matthew Troyer)
After you've settled in and you're throwing back a few cold ones, one question that's sure to surface from the civilian tag-along is why veterans solemnly make a toast and tap their drink or shot on the bar before resuming a night of heavy drinking. This tradition actually has roots that extend all the way back to ancient times.
The toast is a piece of international bar culture, but the military takes it to the next level. The first part is standard: Someone raises their glass and either dedicates the drink to group's collective health or says something silly like,
"Life is a waste of time, and time is a waste of life. So let's get wasted all of the time, and have the time of our life."
"Here's to taking everything in moderation — including moderation."(Photo by Master Sgt. Jeffery Allen)
This brief, poignant message is a way for the person making the toast to appreciate everyone with them. If a veteran is giving that toast, they'll next tap the drink on the table or bar to appreciate everyone not with them — the fallen. Think of this as a less-messy version of pouring one out for the dead. The veteran first shows respect to those around him or her, then to their fallen comrades, and then, finally, to his or herself by knocking one back.
It's also seen as a sign of respect to the bartender and the house — who are some of the select few people that a veteran never wants to anger. This same tradition was also seen in ancient Irish times as a way to scare off evil spirits.
"Begone, evil spirits! The only kind we want around here are the hard kind."
So, if you see a veteran do this, by all means, join them. Keep the moment solemn as they are, nod, smile, tap your drink with them, and enjoy your night.
This article originally appeared on We Are The Mighty
More From We Are The Mighty
5 Reasons Why Troops Stick Together After the Military
4 Reasons Why Showering On Deployment is Disgusting
7 of the Greatest Songs Every Veteran Knows
6 Things You'd Take Back Before Leaving the Military
6 Dumb Things Veterans Lie About on the Internet
Follow We Are The Mighty on Twitter
READ NEXT: 7 OLD MILITARY JOBS WE'D LOVE TO SEE COME BACK

Summary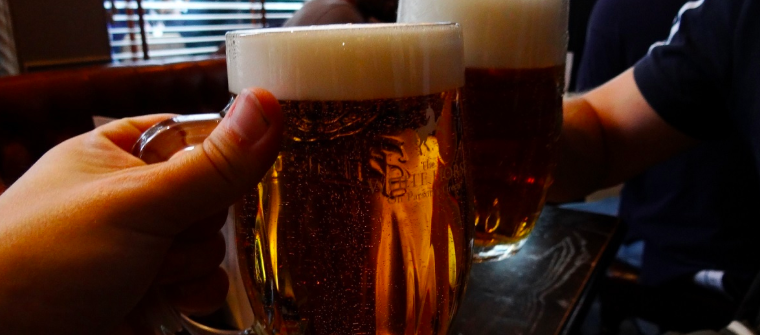 Article Name
Why Veterans Tap Their Drink on the Bar During a Toast
Description
The military is filled with traditions and etiquette that date back hundreds of years. Veterans tapping their drink on the bar during a toast.
Author