Anthony Scaletta
Yoga and Meditation Instructor
Just Breathe Mindful Movement Studio
Age: 37
Military Service:
Petty Officer Second Class (E-5),
Navy (1998-2003)
Rating: Gunners Mate Second Class
(Special Warfare Combatant Crewman)
Education:
Bachelor's degree, international development,




University of Pittsburgh – Johnstown 2010




• RYT 200, Registered Yoga Teacher with the Yoga




Alliance from the Asheville Yoga Center, 2014

Warriors at Ease Certification for Teaching




Yoga and Meditation in Military Communities, 2014

Certified Mindful Yoga Therapy Instructor, 2015

Reiki Master, Certified Crystal Healer (CCH)




and Certified Crystal Therapist (CCT), 2016

Yoga and Mindfulness for Recovery Certification




from the Transformation Yoga Project, 2017

Certified Mindfulness Meditation Teacher from UC




Berkeley's Awareness Training Institute, 2017-2019
Passing It Down. Anthony Scaletta, 37, learned about service from his grandfather. A Marine who was wounded in the South Pacific during World War II, Vito Scaletta gave back to his community after the war through endless hours of volunteer service. "He was such a proud Marine right up until the day he died and that always left a mark on me and was the main influence in my decision to serve," Scaletta says.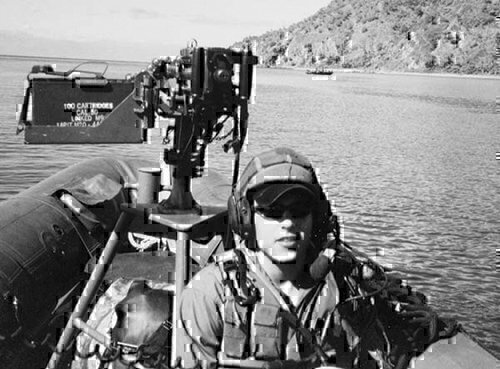 Force for Good. As a boy growing up in Johnstown, Pa., Scaletta often tagged along with his grandfather as he volunteered. "He lived to serve others and was a huge influence on my life through his boundless demonstrations of kindness and compassion for all through his commitment to community service," he says.
Dirty Boat Guy. A self-described overachiever, Scaletta opted for Naval Special Warfare (NSW) with the intention of becoming a Navy SEAL. His eyesight didn't meet the requirements for BUD/S, but he did qualify for Special Warfare Combatant Crewman (SWCC). "It turned out that being a SWCC, or a 'Dirty Boat Guy' as we are affectionately known, was a good fit for me," he says. "We are often referred to as the Navy's 'best kept secret' and I really liked getting to do the high-speed operator shit while keeping a low-profile because I had nothing to prove to anyone but myself."
Hooyah! After 22 weeks of training and completing a probationary period with a Special Boat Team, Scaletta got pinned as a full SWCC in 2000. "By the end of training, I had logged 3,200 nautical miles underway, shot over 170,000 rounds of ammunition, swum 100 miles, run 400 miles and performed over 20,000 pushups. Hooyah!"
SBT 12. He served with Special Boat Team 12 out of Coronado, Calif., and deployed twice to CENTCCOM conducting Maritime Interdiction Operations (MIOs) and reconnaissance missions in the Northern Arabian Gulf.
Blank Canvas. Scaletta loved the brotherhood of Naval Special Warfare, but wanted to see what the world offered a young man outside military service. "I really separated from active duty with a blank canvas ahead of me," he says.
Vagabond Traveler. Not ready to deal with reintegration, Scaletta grew his hair and his beard and spent a year backpacking through Europe. He ended up in Spain working on an olive farm for four months before eventually returning stateside and enrolling at the University of Pittsburgh.
Life Saver. He earned his degree but found his true calling through yoga, a practice that he credits with saving his life. "What has truly saved my life is yoga, and that might be a bold statement but I really mean it. And at very minimum yoga has kept my head above water through all the ups and downs of reintegration into civilian life. It wasn't a miracle fix or anything like that, but it was always there to support me on some level."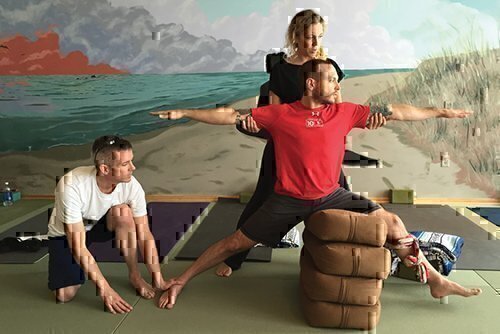 Not Really a Job. He earned a number of certifications and began teaching yoga. Three years later, it's his passion. "I'm pretty sure it is going to be a lifelong career and I feel really blessed to be able to say that. Mostly because it's not really a job for me but a calling," he says.
It's not a financially rewarding career, but that doesn't matter to Scaletta. He volunteers his teaching to help other veterans who are struggling. "Yeah, I need money to live, but teaching yoga fulfills a non-material need in a way that no other job ever has," he says. "And I'm cool with that. I honestly couldn't possibly imagine doing anything else."
Best Advice for You?
"You don't have to do this alone. In fact, you can't, and believe me I tried and failed so many times. There is a whole fire support team standing by that's got your six, but first you've gotta reach out and ask for that help. Often reaching out is the hardest part but it is worth it because the lone wolf approach doesn't work. Even if I don't know you and we never meet – just know this, my brother or sister: I know what you are going through and I am here for you. You can do this and I know you can because you served in the Armed Forces of the United States of America and if you make your transition a team effort it'll be an 'easy day' as we say in Naval Special Warfare."
READ NEXT: UNDERSTANDING CIVILIAN RETIREMENT PLANS