[fusion_builder_container hundred_percent="no" equal_height_columns="no" menu_anchor="" hide_on_mobile="small-visibility,medium-visibility,large-visibility" class="" id="" background_color="" background_image="" background_position="center center" background_repeat="no-repeat" fade="no" background_parallax="none" parallax_speed="0.3″ video_mp4="" video_webm="" video_ogv="" video_url="" video_aspect_ratio="16:9″ video_loop="yes" video_mute="yes" overlay_color="" video_preview_image="" border_size="" border_color="" border_style="solid" padding_top="" padding_bottom="" padding_left="" padding_right=""][fusion_builder_row][fusion_builder_column type="1_1″ layout="1_1″ background_position="left top" background_color="" border_size="" border_color="" border_style="solid" border_position="all" spacing="yes" background_image="" background_repeat="no-repeat" padding="" margin_top="0px" margin_bottom="0px" class="" id="" animation_type="" animation_speed="0.3″ animation_direction="left" hide_on_mobile="small-visibility,medium-visibility,large-visibility" center_content="no" last="no" min_height="" hover_type="none" link=""][fusion_text]Why You Must Market Yourself NOW!
As a transitioning veteran, already transitioned veteran, or professional looking for your next career opportunity, once you start the communication process with a potential opportunity, said company and their team members will search and gather as much information about you in order to determine if you'll be a good fit for their organization. This decision isn't made in a matter of hours, but a matter of weeks, heck maybe even months…
There is an "Art & Science" to this process and every company treats their hiring process a little different. Since you may be looking for your next career, you must market yourself and network continuously until you have at least completed your onboarding process as a new company hire. This allows your voice to be "Top of Mind" and heard so that you're not forgotten due to massive volumes of communications just for one job opening.
I'm 1SG(R) Justin C. Pearson,  I recently retired from the Army (1997-2017) and now I work as the Marketing Operations Manager as part of the G.I. Jobs Team here to serve you!!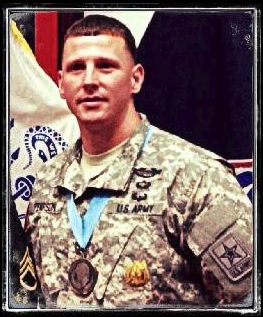 Why does the interview process take so long?
Organizations in general, are searching for the perfect candidate, the "Needle in the Haystack" and the mystical "Unicorn" that I'm sure you've heard of……..and will soon transform yourself into. Hiring for the "perfect fit" reduces the chances of bad hires and ultimately saves Employer's time & money.
Behind the scenes after your interview(s), you see I noted plural as in multiple interviews, there are many things that could be happening which could be resulting in why you haven't heard back. This is why the interview process can be prolonged.
Here are just a few reasons:
Having meetings about you

Conducting comparative analysis's of candidates

Interviewing other candidates

Someone in the hiring chain may be on vacation

Other work priorities came up

The job opening may have been put on hold

They may have somehow lost track of you
What qualities should I highlight for Employers to get EXCITED about me?
Every Employer is looking for different qualities in finding their "Perfect Fit" hire, but here are a few you should highlight at a minimum:
Your

 Motivation & Passion-

 This shows who you may be in the workplace. It also shows your creativity and willingness to learn and improve.

Your Professional Commitment-

 Learning about and researching the company, its culture, the mission statement, values, networking with employees, and taking the initiative to provide solutions before expected!

Your Beliefs, Values & Goals- Aligning & Communicating who you are

 to said employer, Will you fit in? Will they enjoy your presence? How does the employer's culture match your wiring? How are you proving all this to them?
Let's Get Started!
1st HACK- What's your Message to the World?
Determine your personal Unique Selling Proposition (USP)– You do this by identifying your unique skills, knowledge, and experience that you WILL bring to the table that others may not have. Bottom line, you MUST differentiate yourself from every other candidate in the pool in order to stand out!
8 Tips to help Build Your Message NOW:
Make a list of your USP's
Tailor your USP's to the type of position that you're looking for
Focus on "How you will benefit the employer"
PROVE why you're the best fit
Add your touch of personality, show us who you are
Be Short & Sweet & Simple – Headlines that capture one's attention (2-3 sentences at most)
Be HONEST about your experience
Stay consistent with your brand messaging
2nd HACK- Socially Taking the Plunge
You MUST commit to this new way of communicating- We've all heard of outside of the box thinking, right? Becoming Socially Savvy? This is exactly the way that you must think about this whole process. From the way you talk about yourself, to the many different communication platforms, you can choose to communicate and market your message in so many unique ways to differentiate yourself from the crowd. This whole process most likely will make you uncomfortable because it's all new, but don't let that be the roadblock that holds you back. Now is the time to commit to making a plan, refining the plan, evaluating it, and sticking to this life-changing approach!
6 Booster's you Must Remember:
You ARE good enough for the position & You do have what it takes- Be confident!
You've led great organizations, most likely in some of the most intense situations- so you've already proven yourself. Now all you need to do is share your story
Develop your Story & Journey to share with others
Share who you are personally so we get to know the real you
Always show your generosity
Be strategic in which social media platforms you use and dominate the space
3rd HACK- Expanding on your Niche- Preparing Leader Thought
It takes time to highlight yourself, so this should be a huge part of your plan- remember quality vs. quantity- The more your networking is targeted the more you're able to target your network with your great niche content. Elevate your personal brand by creating leader thought through "niche content" that is educational and fun. By doing this, you are sharing your expertise and building relationships at the same time, which assists other professionals within your network in reaching common goals.
10 Key Points that Ignite Your Brand:
Research and become an expert of what you are communicating about
Use simple language
Start with the problem
Share mini-stories of similar situations
Offer your solutions
Post & write for your audience
Follow potential competitors to learn from them
Use strong headliners, subheads, and CTA's in your content
Be clear and meaningful
Have a mentor proofread your content
4th HACK- Creating Your Branded Marketing Content
We all want everyone to love our message and content right? Understand that there are millions of posts a day from professionals with the same goal, so ensure what you do publish or post is high-quality, varsity work that'll HELP others! Your work MUST grab one's attention, stop them in their tracks, and make them want MORE….heck even message or call you……………..well that's the goal anyway!
9 Accelerators for developing Eye Candy Content:
Use high-quality images and graphics that are shareable
Use attention-grabbing pictures, gifs, and videos
Develop infographics to visually present
Share your "behind-the-scenes" graphics of your preparations and your journey to prove your authenticity
Make "Do-it-Yourself" videos on the topics you're highlighting
Use the right words in your content and always remember to check your grammar
Choose your font, weight, colors, and branding platforms to consistently use- (Canva and Movavi are great tools to use)
Always present your content both editorially and visually with your readers and network in mind
Identify new points of view, new formats to use, ways to tells your story, and different distribution channels to amplify your message
5th HACK- Broadcasting Your Message- Becoming Searchable
Learning to become a Social Media & Communications NINJA is HARD work- You may only be used to communicating through your .mil outlook email or a Google/Yahoo account. Well, it's time to broaden your horizon and start researching the different ways you can communicate your message. YouTube will become your "Go-To" aid in order to educate yourself on the "How-To" of using all of these different platforms. The important piece to understand here is everyone uses different platforms to take information in. Heck, you can tweet me and I'll probably respond within a day, but if you send me a LinkedIn message it may be a few days until you get a response. Using variety in the ways you broadcast your message is important because not only do you want your voice heard, but you want your message amplified!
7 Areas to consider using to become a NINJA in Communicating Your Message:
LinkedIn, Twitter, Facebook, YouTube, Instagram, VIMEO
Skype, Zoom, GoToMeeting, GoToWebinar
Press Releases (PRlog.org)
Reddit, Medium, TUMBLR
Develop your own website and blog posts
White Papers, eBooks, Case Studies
Podcasts, Live Videos, Recorded video tutorials
6th HACK- Fighting Through the Smoke
Dominate by being omnipresent on multiple social media & communication outlets! Let's just be real- you must take MASSIVE action to get noticed! There are millions of posts a day and free organic reach on social media gets smaller and smaller by the minute. Back in the day, I called my efforts the #DAILYGRIND in order to achieve #SUCCESS- if you commit to getting after it you'll inch closer to the  "Dream Job" or "Goal" you're focused on! Sometimes we set unattainable goals that aren't exactly realistic. Take the time to determine your efforts align with the goals you've set because it will take massive action in order to meet your expectations and dreams…..trust me on this one- plan accordingly, hustle daily, and if need be, extend your days by a few hours…………who needs sleep right (lol)?
8 Ways to Supercharge your efforts to Get Seen:
Say YES!
Get involved in your network and what's happening
Stay active in your networking community
Use a Social Media Manager to automate certain posts and content- (Ex. Buffer/Hootsuite)
Commit to becoming omnipresent
Ask others to highlight their experience with you & share your content
Volunteer to be part of other professionals events
Develop specific strategies for each platform you will be communicating from
All-in-All:
These HACK's that I've shared with you today are the magic dust that helped me land my dream job! I'm Blessed and Motivated daily to be able to assist you in your life adventures!
Don't forget to Sign-up and Join the Ranks to get our weekly tips, tricks, and resources that provide opportunities for you!
Best Wishes,
JP8
Join us this Friday at 1:30 PM EST on FB Live, as our Team talks about:
3 Articles You Should Read NOW- 1SG(R) Justin C. Pearson
How To Use LinkedIn: Here's Your Tips and Tricks
The Meat and Potatoes of Resume Writing
Top 5 Articles to Check Out
$100k Security Contracting Jobs for Veterans
5 Good Answers to 'What's Your Desired Salary?'
The Job Offer: How Long Can You Take to Respond?
G.I. Jobs- The Best Blog For Military Veterans.
Top 25 Hot Jobs for Veterans 2018
Check out last weeks FB Live Event:
Here is our team email address in case you have questions, tips, tricks, or best practices: YouCanVetOnIt@Viqtory.com

[/fusion_text][/fusion_builder_column][/fusion_builder_row][/fusion_builder_container]
Summary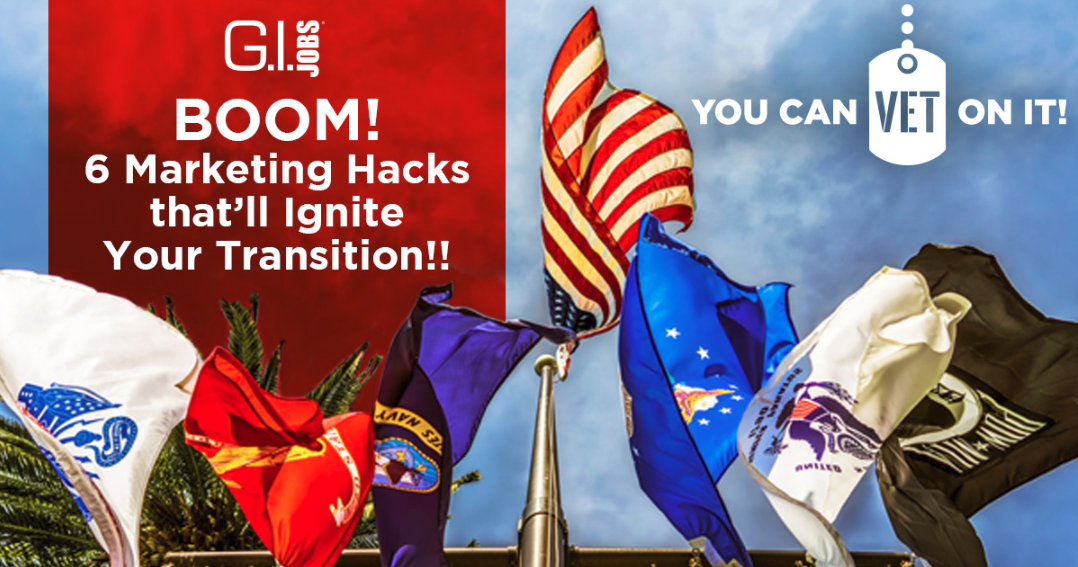 Article Name
6 Marketing Hacks That'll Ignite Your Transition!
Description
Our 20 year Army Veteran, 1SG(R) Justin C. Pearson and currently the Marketing Operations Manager at G.I. Jobs, shares 6 Marketing Hacks That'll Ignite Your Transition! Why You Must Market Yourself NOW! Find employers that want you NOW!
Author
Publisher Name
Publisher Logo