[fusion_builder_container hundred_percent="no" equal_height_columns="no" menu_anchor="" hide_on_mobile="small-visibility,medium-visibility,large-visibility" class="" id="" background_color="" background_image="" background_position="center center" background_repeat="no-repeat" fade="no" background_parallax="none" parallax_speed="0.3″ video_mp4="" video_webm="" video_ogv="" video_url="" video_aspect_ratio="16:9″ video_loop="yes" video_mute="yes" overlay_color="" video_preview_image="" border_size="" border_color="" border_style="solid" padding_top="" padding_bottom="" padding_left="" padding_right=""][fusion_builder_row][fusion_builder_column type="1_1″ layout="1_1″ background_position="left top" background_color="" border_size="" border_color="" border_style="solid" border_position="all" spacing="yes" background_image="" background_repeat="no-repeat" padding="" margin_top="0px" margin_bottom="0px" class="" id="" animation_type="" animation_speed="0.3″ animation_direction="left" hide_on_mobile="small-visibility,medium-visibility,large-visibility" center_content="no" last="no" min_height="" hover_type="none" link=""][fusion_text]
Transitioning Veterans, Service Members, and Military Family Members
Today I'm Writing To You About Preparing For Your VA Physical!
Preparation is Key
"Like many veterans, when I was on active duty, I was so focused and determined to stay fully mission capable, I shrugged off numerous physical ailments that in hindsight, I should have acknowledged, fixed, and recorded."  "What I failed to realize was that without knowing it, during my 33 years of service, I had created a new 'normal' regarding my physical and mental health." "Now that I've been retired for a couple of years and had time to decompress, I've come to understand that there was nothing normal about it.  Now I'm trying to get it fixed – when it should already be fixed." – 13th MCPON(R) Mike Stevens
I took some time to sit down and speak on this subject with our CEO, retired 13th Master Chief Petty Officer of the Navy: Mike Stevens. What came out of our behind closed door session was real-life perspectives that all of us deal with at our new jobs.
I love the opportunity to get into the weeds and hear about the trials and tribulations of it all, especially at even the highest of levels that we serve at. Of course, I can't write about everything for you due to the privacy of our deep dive but I did note several great tips from our great Navy legend.
Service members should be more forthcoming in the initial phases of the physical process and entire military career regarding your medical statuses with respect to your medical history, traumatic experiences, and situations that you've been a part of. Don't wait till years after or have an epiphany the day after your physical is complete.
"I didn't use a VSO and I regret it every day. It's definitely something that I must get fixed in the immediate future."
The use of a VSO such as DAV, Paralyzed Veterans of America, or VFW will provide the necessary support you need to get the rating you deserve. If you decide not to use a VSO understand some professionals are more focused on getting your claim processed rather than ensuring your disabilities are properly recognized.
If at all possible get your physical scheduled at a VA Hospital to save additional time and money. For some of you that are unable to, you may experience strain because this physical may take weeks or even months to complete in full. What happens is the VA uses subcontractors unlike taking a physical on active duty. There are many parts to the physical process with different specialists at different locations all working as subcontractors so your experiences of this process may vary. They all have to report back to the VA their findings. If you choose to not use a VSO, that means you have no-one in your corner to fight for you.
Stay positive. Be forthcoming. Educate yourself.
Thank you,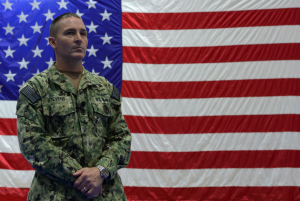 13th MCPON(R), Mike Stevens
VIQTORY, CEO
Let's continue on with these great tips from our veteran advocates!
***Words of Wisdom from Timothy:
Here are a couple of tips and tricks that I've learned over the last 14 years of working with the VA and over 100 Veteran Service Organizations. Be prepared. Have all of your records and the documentation you need to get the rating you deserve. You do NOT take away from someone else when you receive the benefits you are due. In fact, it makes you better prepared for self-care and for helping others!
Facts Tell and Stories Sell. Yes, the people who review your records DO care but they get overwhelmed by the sheer volume of requests that come across their desks. If you provide only the facts, they have to go off those. Tell a story and make sure you back it up with only the facts. Do not go into "storytelling" mode or you'll quickly find your claim undervalued or denied.
Know that if you wait, you'll wait. File early before you transition OR the wait could take much longer than you would like it to. Even though the caseloads have drastically decreased, you could wait up to 6 months or longer instead of a few weeks.
***Real Talk from Destinee:
It's important to ensure that during the process service members are going through the correct vetted sites and not some random blog with bad or outdated information!
Check these out-
The website on va.gov is an excellent resource
https://www.benefits.va.gov/compensation/apply.asp
The page talks about the proper way to apply…
How to work with an accredited representative. If a service member goes to their eBenefits website and uses their CAC or DS logon, they can go to the manage tab at the top and click on the 'manage my representatives' (this information is also on the website).
They can also reach out to their installation VA benefits advisors who should be able to give them info on local or installation-based VSOs.  
Before you visit a VSO, you need to ensure you have all the proper documentation, including their full medical records (including combat records, mental health, dental). You also need to have specific documents for their spouses and dependents (such as marriage license, social security cards, divorce decrees, etc). When they contact their representative, their rep will tell them everything to bring.
Here is a list of 'evidence requirements' from the VA website https://www.benefits.va.gov/compensation/evidence.asp
You need to ensure that anything you submit to the VA or VSO will not be returned so it must be your copy.
Understand the different kinds of compensable service-connected disabilities so you are prepared and understand how you'll be rated. Go to the 38 CFR Book C, Schedule for Rating Disabilities on the VA website. Subpart B shows the actual disability ratings. Website here: https://www.benefits.va.gov/WARMS/bookc.asp
Service members can get a better understanding of the questions going to be asked during their exams for their service-connected disabilities by reviewing Disability Benefits Questionnaires (DBQs). You can see all the info for those here at this website https://www.benefits.va.gov/compensation/dbq_disabilityexams.asp
Here is a website to the DBQ FAQs sheet https://www.benefits.va.gov/compensation/dbq_FAQs.asp
It's important to be educated on this stuff because the reality is that it can impact your quality of life post-transition. There is so much in the rumor mill about disability compensation and too many assumptions- these sites will explain what you need to know.
Service members get their fastest decision by filing a BDD claim, sometimes even as quick as the day after they get out/separate. There are VSOs on many installations that are subject matter experts, particularly on the BDD process. 90-180 days from separation is key!
Remember, get familiar with the 38 CFR Book C, Schedule for Ratings. Subpart B shows the actual percentages. These are the conditions and disabilities VA rates on and for.
***Tips from Jarod:
Properly articulating 38 C.F.R. and following the VA's disability rating guidelines is not easy. It is a very cumbersome and intrusive process that is seemingly designed for failure when going at it alone. To that point, it is imperative for any service member seeking to file a VA rating to allow a Veteran Service Representative (VSR) (DAV, American Legion, etc) to assist and represent the veteran throughout the process as they are trained and well versed in this area.

Furthermore, once a disability rating has been received, if the service member's needs require special accommodations to maintain/obtain gainful employment, that service member should seek assistance from their Local Veteran Employment Representative (LVER) or Disabled Veterans Outreach Program (DVOP) to assist with facilitating/coordinating any special accommodating work-related requests. We help educate veterans about this very topic at CMA.
***Matthew says:
First and foremost get a VA trained Veteran Support Officer (VSO) to assist you.  They are hired and paid by organizations like the VFW, ROA, and the American Legion.  They are usually located in the SFL-TAP facility. They get training every six months from the VA, so they are more current on how to file things, how they should be worded, and they are experts at reading your medical records.  I filed on my own back in 2007 and got squat. I filed using a VSO in 2015 and got more than expected. Using a VSO is a force multiplier no questions asked.
***Thoughts from Juan:
Also, give them all of the documents, jump records… anything that could have, would have caused any physical or mental stress.

Lastly: *** you don't get to decide if you have a disability, get over yourself and tell all. The VA will make the final determination, but don't hide anything because you don't think you don't have a disability. *** That's just a name they give to it, it does not limit or define who you are.
***A Note from Darvis:
The C&P is where most veterans miss an opportunity to show what is documented in their medical records by not convincing the examiner recording the exam of their injuries/illnesses. I'm a retired aviator and previous medic and got a 100% disability. I am no expert, but I do know a few helpful things that I have shared with fellow veterans whom all are 100% or close to it with 80-90%. First and foremost, be honest about all injuries, whether physical or mental. Feel free to message me to expand on what it is that is most helpful.
***The Whisperer Gary:
Start early.  Make a Benefits at Delivery of Discharge Claim.  This will expedite the process by getting the claim filed up to six months prior to separation.  Ensure that any and all documentation is provided.

Even if you think an injury isn't that serious, claim it, get it evaluated and documented.  What is minor today could become major tomorrow, so ensuring it is service connected is vital.
Thank you for taking the time to educate yourself so you can WIN!
DISMISSED!
1SG(R) Justin C. Pearson, Army Veteran
Join us this Friday at 1:30 PM EST on FB Live, as we talk about:
 Our latest #YouCanVetOnIt Articles You Should Read NOW!!!
What You Really Need To Know About Starting A Business
Finance Considerations You Must Plan For
Here's the Rub: Civilian & Federal Resume Advice
4 Tips to Get On the Runway with LinkedIn
6 Marketing HACK's That'll Ignite Your Transition
How to Network like a PRO: 9 Secrets to Help You Dominate Your Transition!
5 Effective Branding Tips For Post-Military Success
Launching YouCanVetOnIt – Veterans helping Veterans
Top 6 Articles to Check Out!!!
$100k Security Contracting Jobs for Veterans
5 Good Answers to 'What's Your Desired Salary?'
The Job Offer: How Long Can You Take to Respond?
How To Use LinkedIn: Here's Your Tips and Tricks
Top 25 Hot Jobs for Veterans 2018
The Meat and Potatoes of Resume Writing
Check out last weeks FB Live Event:
Here is our team email address in case you have questions, tips, tricks, or best practices: YouCanVetOnIt@Viqtory.com

[/fusion_text][/fusion_builder_column][/fusion_builder_row][/fusion_builder_container]
Summary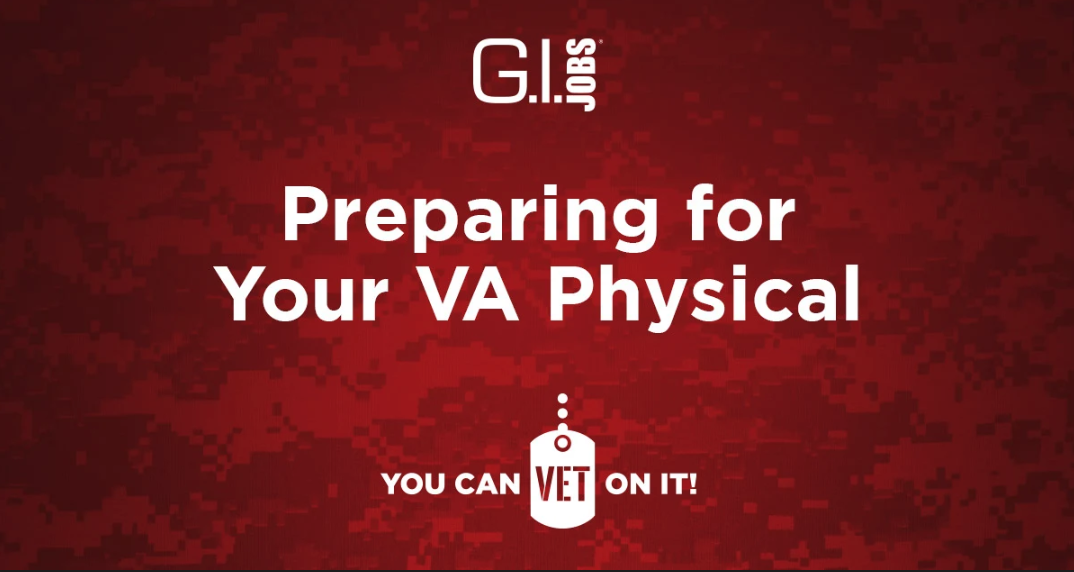 Article Name
Preparing For Your VA Physical
Description
MCPON(R) Mike Stevens and our Veteran Advocates: Preparing For Your VA Physical! We are your number #1 transition resource bringing you the latest and greatest! Find Employers that want to HIRE you NOW!
Author
1SG(R) Justin C. Pearson, Army Veteran
Publisher Name
Publisher Logo