[fusion_builder_container hundred_percent="no" equal_height_columns="no" menu_anchor="" hide_on_mobile="small-visibility,medium-visibility,large-visibility" class="" id="" background_color="" background_image="" background_position="center center" background_repeat="no-repeat" fade="no" background_parallax="none" parallax_speed="0.3″ video_mp4="" video_webm="" video_ogv="" video_url="" video_aspect_ratio="16:9″ video_loop="yes" video_mute="yes" overlay_color="" video_preview_image="" border_size="" border_color="" border_style="solid" padding_top="" padding_bottom="" padding_left="" padding_right=""][fusion_builder_row][fusion_builder_column type="1_1″ layout="1_1″ background_position="left top" background_color="" border_size="" border_color="" border_style="solid" border_position="all" spacing="yes" background_image="" background_repeat="no-repeat" padding="" margin_top="0px" margin_bottom="0px" class="" id="" animation_type="" animation_speed="0.3″ animation_direction="left" hide_on_mobile="small-visibility,medium-visibility,large-visibility" center_content="no" last="no" min_height="" hover_type="none" link=""][fusion_text]
Transitioning Veterans, Future Veteran Employees of America, and Professionals
Today we're talking about Civilian & Federal Resume Advice!
Let's start with my take on civilian resume advice…..
Now that you have researched and narrowed down your perfect employment picture while creating a stellar network based on your future employment goals, the next step is to apply.
Usually, with most applications or even before the application process you are going to be asked for your resume. This short and sweet snapshot of your life is a game changer that can take quite some time to develop. On average, hiring managers spend only six seconds reviewing it. Six seconds is all you have to impress and be selected to move onto the interview process, or be placed in the trash bin of doom. Do you want that to happen?
I'm 1SG(R) Brian Hucik- Warrior & Mentor of Many.  I recently retired from the Army (1993 – 2018) and I am the Military Friendly Manager as part of the VIQTORY team here to help you transition and land your next adventure! If you haven't done so already
I am not an expert resume writing warrior but I was smart enough to know not to send my bland eighth-grade level resume that I created in TAPs class to my dream employer. Nor did I pay upwards of $200 to a veteran employment specialist to write it. Instead, I networked within my chosen profession (Ninja) and asked for examples from my peers within my social network. Do you have a connection in your network that has talent management experience? You should be asking them to take a look at your work and engage in feedback for you. This is your one and only shot to make a difference. The resume is an extension of you and you have to create that clear concise picture of yourself as a value-added member of the employer's organization.
What should your resume look like? One, research and find a great template to make it stand out. I went with a combination format which is a hybrid closely resembling a LinkedIn profile. It should include a 4 to 5 line summary that highlights your work experience, skills, and achievements (think your LinkedIn summary). Be sure to use industry-specific terminology when describing your skills, not military jargon.
Next, you would present your work experience in reverse-chronological order. Again be sure not to use jargon like squad leader and how many soldiers you led. Think manager or director and number of direct reports you managed. Follow this with a short snapshot of the work you did and about 3 to 4 accomplishments within that position (highlight your excellence).  Are these snapshots using industry-specific terms? It should. Now STOP here, spell check, adjust font, proofread, and check your formatting.
Let's continue,  now that you have peaked the interest of the hiring manager using your hybrid combination format and specific soft skill industry buzzwords within your summary and work history. We can now turn our attention to a small section of volunteer work and or goodwill organizations that you have supported during your life journey. I myself listed non-profits like Habitat for Humanity, Team Red White and Blue and Race for a Cause.  
The next section covered my civilian education achievements and any prior certifications or training that would be relevant to the position – think Equal Opportunity and not driver's training.  
Then, the last section covered my top three references. You may want have one of the three be at least industry specific for your chosen path.  The other two maybe a direct supervisor, peer, or at least someone that can verify your work experience and character, perhaps someone that may actually like you. These references should give you a quality recommendation on your social networking platforms just in case someone is validating. Now STOP, realign, spell check, proofread and send to Space Command for final approval.  Please have professionals look it over before you send it. Sometimes we misspell words and don't even know it (lol).
Overall, your resume is one of the most important tools in your kit bag for employment in the civilian sector. It must be fresh and industry-specific in order to meet the needs of the employer. Your short work history, achievements, and history of excellence should paint a value-added picture to the organization while developing toward your anticipated job role.
Again, you may be the greatest future employee for your desired industry on the planet. You may be well groomed, mild-mannered, and have the skills of a great Spartan warrior. However, the resume is the 6-second elevator speech to get into an interview. You must research, develop, and network to place the appropriate amount of emphasis on this critical task in order to land your next career!
Respectfully,
Brian K. Hucik, 1SG ®, US Army 1993-2018
Now, let's move onto Federal Resumes-
Kenneth Elshoff, M.A., is one of our Veteran advocates, a Navy Veteran himself, and former GS-0201-12 Federal HR Specialist (Recruitment/Placement) with the Department of Veterans Affairs. Today, Ken shares his expertise on "The Keys to Keywords in Your Federal Resume."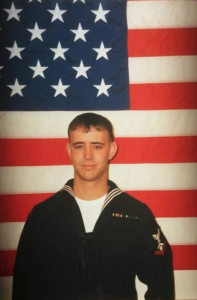 As Veterans, we often feel compelled to continue our noble pursuit of serving the public by seeking Federal government jobs after discharge or retirement. The reasons are many: comradery, relatively high pay, job security, great benefits and even a sense of renewed purpose. Simply,
…federal jobs are a natural continuation of military service!
In the 9 years I spent as a Human Resources Staffing Specialist, I staffed hundreds of federal positions and examined thousands of resumes. One major mistake veterans should avoid is creating a 'master resume' and using that one resume to apply for all the jobs in which they have an interest.
A better way is to instead create a brand new – highly customized – resume for every job to which they apply. You can do this based on the information given in job Announcements.
Luckily, federal job announcements (mostly found at USAJOBs.gov) are very detailed and this is terrific for you the veteran job seeker. Why? You can extract plenty of relevant keywords from these announcements and place them into your resume.
Without the proper keywords in your resume, it could hamper your efforts to secure an interview.
There are many, many reasons why you need these keywords in your resume. Here are 5 Amazing Reasons you MUST capitalize on Keywords:
They are in the announcement for a reason!

They are actually telling you 

exactly what knowledge, skills, and abilities they are looking for. It's your job to hand them back a well-rounded resume that 'speaks' to the job announcement!
They are given to you on a silver platter – use them!

Keywords are easily 

copied and pasted into your resume directly from the announcement (Remember: DON'T copy and paste entire sentences, only individual keywords).
Using keywords from the announcement

in your resume lets the HR Specialist 

(who initially screens your resume) know that you are not only qualified for the job but that you are HIGHLY qualified.
Keywords allow you to customize

your resume to every single job you 

apply for.
Keyword scanners will be on the lookout

. While it's a myth that USAJOBs uses 

electronic keyword scanners (human eyes initially screen resumes), some Agencies have their own application systems that DO have keyword scanners.
Without the proper keywords in your resume, it can be eliminated the second you apply!
Good news! On each USAJOBS announcement, there are several places from which you can extract these valuable keywords.
Let's look at a sample USAJOBS announcement for demonstrative purposes. Go HERE to see the announcement.
This was an announcement (now closed) for a Secretary (OA) position with the Department of Veterans Affairs.
As you scroll through it, pay special attention to these sections:
The Duties Section.
The competencies section.
The specialized experience section.
The USAJOBs Occupational Questionnaire.
Let's head back to the sample Secretary announcement above and take a look at the duties section of. They are posted below.
Highlighted for your convenience –and colored in BOLD — are some sample keywords that would be powerful when placed into your resume if you were applying to this specific Secretary job.
The incumbent

receives, scheduled, refers

, and contacts members of the staff, 

agency, and persons outside the agency ranging from the general public to Vendors.

The incumbent provides public

contact support services

via the

telephone, e-mail, or in person providing information about the office, its functions, and standard operating procedures.

The incumbent

greets

Service visitors to include Pharmaceutical Vendors and 

Medical Center Service Chief's, scheduling meeting and conferences with the Chief of the Service and Senior Staff of the four subordinate Service sections.

The incumbent satisfies customer and public needs by

providing information and/or referring to appropriate resources.

Is the

liaison

officer to all levels of administrative services within the Healthcare 

System (HCS), as well as the outside organizations with whom the Service has contact.

Serves as principle

timekeeper

for a Service Level organization of 120 or more 

Personnel.

Directs the training and activities of subordinate part-time timekeepers to

ensure proper allocation of compensatory time, overtime as well as all other types of Leave.

Acts as

PIV Sponsor

identifying that the Applicant has a need for a facility identity 

badge (PIV, VA Badge or One Day Pass).
Look at that! Now you have a rock-solid list of powerful keywords which will help the HR Specialist quickly determine that you are a qualified applicant, thereby increasing your chances of getting called for an interview.
Receives
Schedules
Refers
Use of telephone, e-mail, or in person
Provided information
Standard operating procedures
Greets
Schedules meetings
Provides information
Liaison
Timekeeper
Ensure proper allocation of compensatory time, overtime
PIV Sponsor
You would then extract these keywords and pepper them throughout your resume, customizing it into what I call a "high-probability" federal resume. (Of course, you want your keywords to be black font; red was used here merely as a demonstration.)
All applicants are encouraged to customize their resumes when applying for every job to which they apply. Yes, it is time-consuming but, in the end, it is worth it when your high-probability resume begins landing you job interviews.
Good luck!
–Ken
Kenneth Elshoff, M.A., is Navy Veterans and a former GS-0201-12 Federal HR Specialist (Recruitment/Placement) with the Department of Veterans Affairs. He created and serves as the main administrator for the world's largest online community for helping Veterans get federal jobs: The Veterans 2 Federal Government Jobs (U.S.)Facebook group.
Join us this Friday at 1:30 PM EST on FB Live, as our Team & Ken talk about:
Our latest #YouCanVetOnIt Articles You Should Read NOW!!!
4 Tips to Get On the Runway with LinkedIn
6 Marketing HACK's That'll Ignite Your Transition
How to Network like a PRO: 9 Secrets to Help You Dominate Your Transition!
5 Effective Branding Tips For Post-Military Success
Launching YouCanVetOnIt – Veterans helping Veterans
Top 6 Articles to Check Out!!!
$100k Security Contracting Jobs for Veterans
5 Good Answers to 'What's Your Desired Salary?'
The Job Offer: How Long Can You Take to Respond?
How To Use LinkedIn: Here's Your Tips and Tricks
Top 25 Hot Jobs for Veterans 2018
The Meat and Potatoes of Resume Writing
Check out last weeks FB Live Event:
Here is our team email address in case you have questions, tips, tricks, or best practices: YouCanVetOnIt@Viqtory.com

[/fusion_text][/fusion_builder_column][/fusion_builder_row][/fusion_builder_container]
Summary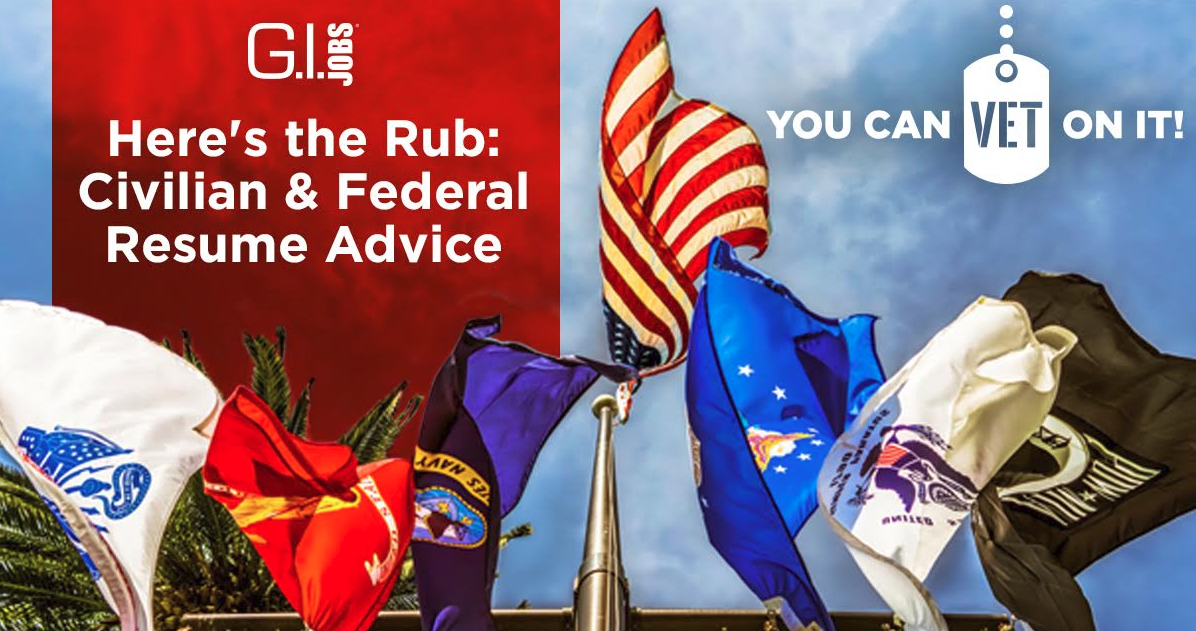 Article Name
Here's the Rub: Civilian & Federal Resume Advice
Description
Our G.I. Jobs Team and Navy Veteran, Ken Elshoff: Talk Civilian & Federal Resume Advice! Learn About the Tips & Tricks to Get Your Resume Seen! Find employers that want you NOW!
Author
1SG(R) Brian Hucik & Navy Veteran, Ken Elshoff
Publisher Name
Publisher Logo